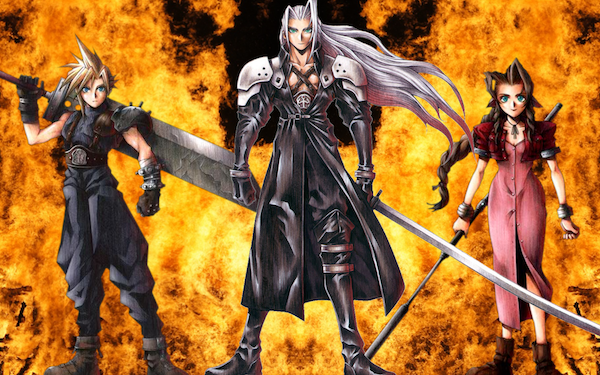 We tease out all of the Nobuo Uematsu tunes that went into Jonne Valtonen's Final Fantasy VII Symphony — from the devilish One-Winged Angel to the delicate Aeris's Theme.
Jump to the first movement breakdown
Jump to the second movement breakdown
Jump to the third movement breakdown
NB. There is a companion podcast to this piece, available via the Sound Architect podcast feed or at this page.
By Thomas Quillfeldt
First performed in Germany in 2013, the Final Symphony concert suite draws on the music that video game composer Nobuo Uematsu created for three of the most popular JRPGs of all time: Final Fantasy VI, Final Fantasy VII and Final Fantasy X.
The concert was produced by Merregnon Studios' founder, Thomas Böcker, who also saw to it that the body of work was recorded in the best possible way: at the legendary Abbey Road Studios (where it was also mixed and mastered) and performed by the world-famous London Symphony Orchestra. As well as on all major digital platforms, the album is available on CD and 3xLP vinyl via LacedRecords.com.
Creating Final Symphony was no easy feat; arrangers Jonne Valtonen, Roger Wanamo and Masashi Hamauzu were tasked with weaving together melodies, rhythms and textures from among hundreds of in-game tracks into new orchestral works arranged in a classical style. Those original Uematsu tracks (up until Final Fantasy X) were composed to be voiced by the sound chips of 1980's and 90's game consoles — thus they never really came close to sounding like real-world ensembles. The challenge was multifaceted, involving careful musical selection, arrangement, instrumentation and orchestration choices.
Below we take a forensic look at the three movements of the Final Fantasy VII Symphony, arranged by Finland's Jonne Valtonen. 
Keep an eye on The Sound Architect podcast feed for an audio interview with Valtonen about the symphony in the coming weeks. (iTunes feed)
Eckehard Stier conducts the London Symphony Orchestra, recording Final Symphony at Abbey Road Studios [credit: Stefan Cohen]:
Jonne Valtonen: From Future Crew to Final Symphony
Although Jonne Valtonen started his music education on the piano, his first original pieces were composed using notation software on a Commodore 64. This lead him to become part of the computer subculture known as the demo scene; in particular being part of a group of composers using the first 'tracker' on PC (music software similar to the Amiga module system which spawned the MOD scene). In the early 90's, Valtonen, under the alias Purple Motion (🤘😈🤘), became the lead composer of the Future Crew (imagine a loose hip-hop crew, but with all the street cred of a floppy disk). You can check out some of his inventive compositions via the Modarchive.org; here's one of his early tracks:
Later, Valtonen trained in classical composition at Finland's Tampere Music Academy and took up with the Germany-based Merregnon Studios / Spielekonzerte / Game Concerts team, founded and helmed by producer Thomas Böcker, in 2005; this was after he had worked on several video games and films, as well as contributing to the Merregnon trilogy soundtrack project alongside the likes of Christopher Hülsbeck and Yuzo Koshiro.
In 2008, he became music lead for live orchestral projects at Merregnon Studios, including for Symphonic Fantasies, Final Symphony and Final Symphony II.
First movement: "Nibelheim Incident"
The first movement is all about Ol' Green Eyes himself, Sephiroth; or rather, the spectral, Jenova-controlled vision of Sephiroth.
Explains Valtonen: "The first movement is about Sephiroth and how he found his purpose in life (to bring about all of life's destruction). In the game, this story is principally told through Cloud's flashbacks while he is remembering what happened in Nibelheim." Hence the name of this movement: Nibelheim Incident.
"Sephiroth, the antagonist, is present for the whole movement and you can also hear protagonist Cloud at times; it's as if Cloud is there witnessing Sephiroth going mad.
"I thought that these pieces, including from the opening of the game [Opening Theme - Bombing Mission], as well as those relating to Sephiroth [Those Chosen by the Planet, One-Winged Angel] and his mother Jenova [J-E-N-O-V-A, Trail of Blood], best reflected the transformation that Sephiroth goes through; why he became what he became."
"The world of Final Fantasy VII is dirty and depressed; it's also very mature. The people in power — and their evil corporation, Shinra — is mining human souls (AKA the 'lifestream') for energy and profit while a lot of people are living in poverty. I wanted to reflect this in the orchestration, which is why it is constantly 'dirty'. This means that there is almost always an element that gives the music a certain 'sting', or obscures the main musical focus of a section with orchestral textures; usually darker textures, at that."
Nobuo Uematsu tracks referenced in the first movement:
Those Chosen by the Planet
One-Winged Angel
Opening Theme - Bombing Mission
Who Am I?
J-E-N-O-V-A
Trail of Blood
To listen along, I recommend opening the track on YouTube or Spotify in a different window (both are also embedded below) so you can stop and start as you follow along. On mobile there's Spotify or Apple Music/iTunes. Headphones are advised — the music was composed to be heard in a concert hall where you can hear a pin drop...
---
Prelude to some dark happenings – 0:00 - 0:23
The symphony opens with a chime — reminiscent of that famous Final Fantasy VI opening — and a low note held by the double basses. Taken from the soundtrack cue Those Chosen by the Planet, this can only refer to the silver-haired one; Sephiroth's corporeal form and its later evolution, the ghostly presence of him projected by his powerfully evil alien mummy.
Valtonen comments: "The opening of the symphony is minor because things don't start out that well; I wanted to set a dark tone for the whole piece." 
Those Chosen by the Planet:
---
Open for business – 0:23 - 1:20
At 0:23 of the first movement, we hear a piano play discordant, bastardised versions of the very first chords one hears after clicking "NEW GAME" when booting up Final Fantasy VII: the opening chords of Opening Theme - Bombing Mission.
Opening Theme - Bombing Mission:
These chords are followed by the orchestra quietly playing woozy versions (0:35) of the 'sung' chords from Those Chosen by the Planet, which, in the game, also appear in the fan-favourite final boss track, One-Winged Angel.
Broodily, at 1:11, we hear a snippet of the usually hopeful melody from Opening Theme - Bombing Mission, which plays as the camera pulls back to show the awesome sight of the megalopolis, Midgar:
---
Zack? Cloud? Clack? Zoud? – 1:20 - 2:27
The brass explodes at 1:20, repeating the same Opening Theme - Bombing Mission melody more powerfully in a minor key, as wave after wave builds to a triumphant Wagnerian peak at 1:47. Things simmer down but remain overwhelmingly gloomy. Sephiroth and Jenova are here, they're dangerous, they're feeling malevolently violent.
At 2:09, we hear tuned percussion play the distressing, confused-sounding arpeggios from Who Am I? — the soundtrack cue which plays as Cloud, floating in the lifestream with Tifa after Mideel is destroyed, tries to piece his memories together of really happened in Nibelheim five years ago.
Who Am I?:
---
Crisis Cor Anglais – 2:27 - 4:00
At 2:27, shortly after hearing more of the Opening Theme, we also hear a minor version of the Main Theme - Final Fantasy VII (essentially Cloud's theme) which is interwoven into Who Am I?.
Main Theme - Final Fantasy VII AKA Cloud's Theme:
Things come to a deeply unsettling head at 2:58 — fans of Danny Elfman's Batman scores might enjoy this bit — as a chime signals that everything is sincerely messed up down Nibelheim way. A concert bass drum subtly plays a heartbeat rhythm as the strings, brass and woodwind work themselves into a frenzy.
Instrumentation and musical material from Who Am I? and Those Chosen by the Planet are fused to summon the ultimate horror of Jenova-Sephiroth's genocidal tendencies — and Cloud is here somewhere, lost.
Valtonen: "Who Am I? gets dirty and distorted as the piece progresses, and after that, sections of One-Winged Angel get thrown around. I tried to reflect the moment when Sephiroth totally loses it."
Here is Valtonen's personal sketch of the piece to this point, showing how he conceived its progression:
---
How can you fly with only one wing? – 3:59 - 7:20
We arrive at One-Winged Angel proper at 3:59, with the famous "SEPHIROTH!" melody heard at 4:10. Valtonen punctuates everything with cracking, clacking percussion.
One-Winged Angel:
Valtonen: "Even though this track doesn't play until the end of the game, I thought it was OK to use it in here near the beginning of the symphony as the evil version of Sephiroth that we pursue throughout Final Fantasy VII came into being during the Nibelheim incident."
4:42 brings us the brass and strings teaming up on a melody from the thrilling boss theme J-E-N-O-V-A. Various heroic tunes from that soundtrack cue find full voice, before a call and response between Jenova and Sephiroth at 5:32. By 5:46, we're treated to huge, dramatic brass chords that echo Don Davis's original score for The Matrix (or various of John Williams' many Star Wars soundtrack cues). The xylophonist has plenty of work to do, darting here and there among the thunderous orchestra.
J-E-N-O-V-A:
Hidden among the hyperactive brass at 6:38 is a discreet horn line quoting the Main/Cloud's Theme amidst all the Jenova action.
Don't slip on the trail of blood... – 7:20 - 9:25
We battle on through to 7:20, where the Opening Theme shines through like sun rays through the clouds, only to be subsumed at 7:32 by the chilling choral chords from Those Chosen by the Planet and One-Winged Angel that denote Sephiroth. If you couldn't hear The Matrix influence before, the trumpet work at 7:50 will surely bring Neo, Trinity and the gang front of mind.
At 8:02, everything breaks down… A solo harp gently plays descending arpeggios from J-E-N-O-V-A whilst the strings creepily slide around. Violent orchestral stabs (the GG-F#-Ab from One-Winged Angel) punctuate the uneasy peace unpredictably.
We feel an evil chill at 8:54, as the meandering, atonal melody from Trail of Blood sidles up to us (think of a mysteriously open door and bloody smear across the floor after the party wakes up in the Shinra Building Floor 67 cells). Jenova-Sephiroth has been murdering people (and not cleaned after itself). At 9:06, you can just about here the creepy piano play the 'Se-phi-roth' motif.
Trail of Blood:
The iconic timpani hits from Trail of Blood come thumping in at 9:17, before everything drops to near-silence.
Let's blow this place and go home! – 9:25 - 13:36
SURPRISE! Out of nothing at 9:25, we're treated to the introductory bars of One-Winged Angel, complete with banging timpani, chugging string chords and mischievous high trumpet lines. Jenova-Sephiroth is on the warpath. We may be without choir, but at 10:35, the London Symphony Orchestra belts out everyone's favourite gaming bad-guy tune.
At 10:51, we get some delightfully nasty, brutish and short flute using extra-breathy technique.
From 11:31, everything starts to get a bit John Williams' Jaws/Bernard Hermann's Psycho, settling into a steady, dread pulse. The strings and woodwind weave in and out of one another, exploring some of the many melodies packed into One-Winged Angel, and at 12:20, the layer intensify and start to sonically clash. Bits of Those Chosen by the Planet are jumbled up with motifs from One-Winged Angel and the Opening Theme. 
Valtonen explains the final build-up: "One-Winged Angel is so long a piece that I had to think for a long time about how to incorporate it, as it simply had to be there. I started stacking different parts of One-Winged Angel on top of one other, like Sephiroth holding all of these ideas and doubts in his head at the same time.
"Also the other themes used in the movement get stacked on top of one another so at that at several moments, you literally have all the music playing at the same time. I wanted truly to bring out the madness in Sephiroth.
"Then, at the end, there's a moment of clarity where he truly discovers his purpose. In contrast to the cacophony from earlier on, everything is clear, which is when we hear the 'SEPHIROTH! motif [at 12:50] at its most forceful and pronounced."
At 13:03, we're treated to a suspenseful final passage that signals Jenova-Sephiroth's sheer dominance over proceedings.
Second movement: "Words Drowned by Fireworks"
Again, I recommend opening the track on YouTube or Spotify in a different window so you can stop and start as you follow along. On mobile there's Spotify or Apple Music/iTunes. Headphones are advised, so you can really hear the detail.
This movement is a slush-fest and no mistake. It's the musical expression of the love triangle between our hero Cloud, his childhood friend Tifa and the mysterious young flower vendor/last surviving descendant of the original hippies, Aeris. You will get goosebumps.
Nobuo Uematsu tracks referenced in the second movement:
Aerith's Theme
Main Theme (stands in for Cloud's Theme)
Words Drowned By Fireworks
Tifa's Theme
One-Winged Angel
The name of the movement, Words Drowned By Fireworks, is taken directly from a track on the game's original soundtrack (AKA Interrupted by Fireworks) that plays as Cloud continues his Gold Saucer date with one of his team (it could be Aeris, it could be Tifa or, if you played your cards wrong, Yuffie or Barrett). Technically speaking in terms of game mechanics, going on a date with Aeris is a 'win' (Tifa may be 'best girl', but Aeris is 'best Ancient'). In any event, the pair find themselves alone in a cable car, with Cloud utterly failing to hold a basic conversation. The camera zips around the gravity-defying theme park in the sky as fireworks go off.
Arranger Jonne Valtonen points out that with this second movement, he wanted things to be a bit more focused than the other movements. By referencing fewer themes (five in total; other movements feature six to 10), it becomes more about the intertwining of character themes — the love triangle angle is all important.
"This movement is all about interruptions: fireworks interrupt Cloud and Aeris; before Sephiroth fatally interrupts them [one might say he pointedly punctuates proceedings]. In general, when it seems that the music is going to build to something grand, it quickly withdraws to something small. I wanted to reflect the feeling of falling in love. You have these big emotions — which might seem scary — but you also feel very insecure and vulnerable."
The movement is the centrepiece of a symphony which, structurally, loosely follows the symphonic form drawn from classical music tradition. He admits: "I worked on all of the sections of the symphony at the same time; when I got stuck on one part I'd jump to something else."
---
A brief aside — Kotaku has a fascinating YouTube series picking apart the subtle differences between the Japanese and original English translations of the game. The third episode points out the depth of Cloud and Tifa's relationship by highlighting the Japanese word 'osananajimi', which is often used in reference to them: it roughly translates as 'an intimate, childhood friend whom one has known since before they can remember', i.e. a deeper bond than just 'childhood friends'.
The video also points out that, technically speaking, our flower girl's name can legitimately be spelled either Aeris or Aerith, (or Aeri-su or Earith). We're O.G. '97 PAL edition here 😎 so it's 'Aeris' in reference to the character (but 'Aerith's Theme' for the track).
Slush puppies – 0:00 - 3:18
Valtonen's notes for the overarching shape of the first section of the second movement:
The movement opens with a melody plucked from the middle of Aerith's Theme, specifically that from 1:12 of the original soundtrack cue:
We hear, at 0:15 of the symphonic movement, a quiet refrain of the Main Theme (AKA Cloud's Theme) before the pizzicato strings and woodwind introduce us to Words Drowned By Fireworks proper. Listen carefully from 0:35 and you can hear some slightly discordant piano tinkling, meant to represent birds tweeting — this eerie technique returns later on.
At 1:09, we're treated to 'all the feels': one of original composer Nobuo Uematsu's most romantic themes sweeps in, borne by the strings. It occurs at 0:41 of the original cue:
The second half of that particular section of the original cue is redolent of the score for Final Fantasy VIII, in particular Balamb Garden.
Arranger Jonne Valtonen rewards listeners with as much melodic music as he can cram in, after the dark and violent first movement (hey, it's a pretty dark and violent game, all told). At 1:28, the brass, led by the French Horns, bring us another yearning melody from Words Drowned By Fireworks, although the quiet tremolo strings and muted gong hits (especially from 1:37) underpinning it hint at the incoming fireworks; there's also a storm brewing.
Cloud and Aeris' relationship is one of strong emotions, and there is only a brief time for them to express their passion. At 1:46, we return to the melody used to open the movement, this time decorated with flute trills; and by 2:06 we're in full symphonic romance mode.
Rachmaninov eat your heart out.
It's getting hot in here, so take off all your bangles – 3:18 - 7:49
At 3:18, we hear Valtonen harnessing the orchestra to sonically simulate fireworks — and it's glorious. Indeed, there are clever things happening all throughout the symphony in terms of instrumentation, playing techniques and a variety of different percussion.
He admits: "The whole symphony is really difficult to play. There are a lot of notes and, at points, the dense textures sounds almost like an electronic piece. 
"The fireworks were really hard for the orchestra [the London Symphony Orchestra, no less] to do. The take on the record was their third take, whilst the other sections of the symphony were either first or second take. We ran the risk that if the fireworks idea didn't click, the audience wouldn't know what it was supposed to be." 
First we hear the 'swoosh' of small rockets launching. These are manifested through various instrumental tricks, to fascinating effect: sandpaper blocks provide the sound of the ignition, alto violas provide the flying sound through long glissandos (slides), the sound of 'air' is provided by trombonists blowing (but not sounding notes), the string section is split into seven four-player groups that each play 'explosions', there is a triangle per group to add attack to the explosions.
At 3:55, we hear larger fireworks being launched before the brass and percussion sound some slightly grander explosions from 4:03.
The music was romantically building towards a peak but, before the climax, we are diverted. Smaller explosions come from all across the orchestra before one big explosion at 4:18, expressed as a huge, triumphant chord.
Valtonen: "It think this section was the first thing I wrote for the whole symphony. I was really excited about the idea — how could I orchestrate fireworks going off? I loved the thought of the launches and explosions interrupting Cloud and Aeris' moment together, as happens in the game."
Everything collapses to nothing before, quietly, at 4:30, Aerith's Theme reappears in the strings. A solo violin then gives us a blast of Cloud's/Main Theme at 4:48; the lovers are intertwined in a musical tryst, during which we get a more traditional, fully-voiced version of the main theme at 5:18. There's an added Aerith's Theme twist at 5:40.
It's all very John Barry (c. 1967-87) in the way that the veteran composer for the James Bond series would create a swooshy, romantic, string-led version of a given film's main theme/title song (e.g. the exquisite Mountains and Sunsets from You Only Live Twice).
And then, as if walking into the bedroom at the exact wrong moment, Tifa's Theme appears at 5:58 — specifically the melody that occurs at 0:49 of the original cue:
Cloud turns from one lady to the other, confused. Another reading could be that the love triangle turns into a musical ménage à trois… It's all very, very exciting nonetheless 💏👄😊.
The horns at 7:34 would suggest that perhaps Aeris wins out, but the climax (🔥) of the section at 7:47 takes us into darker territory…
On Cloud nine – 7:49 - 10:53
In a ghostly, delicate way, the strings then explore some thematic material from Cloud's/Main Theme — specifically from 1:55 of the in-game cue:
In the background (from 7:54 of the movement), we hear a piano tinkling somewhat disturbingly, similar to the twittering birds earlier on. In this instance, it eerily reminds us of Cloud's thin grasp on his own identity and memories. Playing against the lead violin is a solo cello counter-melody (from 8:11) comprising snippets from Aerith's Theme, as if Cloud needs her to help complete him; even though in the game it is his 'osananajimi', Tifa, who becomes his psychological crutch. We hear a mesmerising delay effect (at 8:35) rippling through the strings.
As if approaching Sleeping Beauty's castle at Disneyland, from 8:47 we get an almighty full-orchestral build up to 9:09 where Aerith's Theme wins out. In arranger Valtonen's mind, Cloud would have ended up with Aeris (had she not been killed), which is reflected in the (short-lived) musical victory.
But, signalling the tragedy to come, Valtonen sprinkles hints of chromatic dissonance in the glockenspiel part that plays from 9:32 (those birds again), over the top of vibraphone, celesta, tubular bells (played with soft mallets) and harp harmonics (a particularly plucking technique). Something isn't quite right amidst all this romance.
At 10:28, the triumphalism would have us believe that love has won the day, but everything takes a turn for the darker…
(Around 10:36, there are shades of Alan Menken's score for Disney's 1991 animated film, Beauty and the Beast.)
A vicious stab in the back – 10:53 - 13:38
What starts (at 10:53) as a victorious brass section quickly gets hijacked, at 11:05, by the thumping opening of One-Winged Angel. The evil pulse dies down slightly, but returns to menace our heroes throughout the section.
Notice the "AERITH DIES... *not going well" in the top left of Valtonen's notes:
Various combinations of string soloists and instrumental groupings play tragically discordant versions of our heroes' themes — as Valtonen puts it, they are "distorted and without hope." More and more distressed, the lovers Cloud and Aeris struggle against the encroaching darkness of Sephiroth.
Valtonen's concept for this section is really quite distressing: "I had this idea of Aeris' heavy breathing [out of anticipation] and Sephiroth's monotonic, thumping rhythm falling in line with each other." This can be heard from 12:24, where the strings playing a frantic version of Aerith's Theme lock in with the pulsing of Sephiroth's Theme.
At 12:41, Sephiroth raises his unnecessarily lengthy Masamune sword to skewer Aeris (no double entendre intended) and we get some of Bernard Herrmann's famous stabs (pun intended) from his score to Hitchcock's Psycho. Those stabs (at 12:54) are made up of a horribly evil, dissonant chord loudly hammered out by the strings — a full chromatic cluster from top to bottom, which sounds remarkably like a Hammond Organ. The tenuto strings (tenuto = with heavy emphasis) hack away as if all the players were channeling Norman Bates.
At 13:13, the 'breathing', as Valtonen conceives it, stops.
Aeris has passed on 😔; she is no more; she has ceased to be; she has expired and gone to meet her maker… she is an ex-Cetra.
Luckily for the Planet, she has been struck down to become more powerful than Sephiroth can possibly imagine.
Here's a snippet from the second movement of Eckehard Stier conducting the London Symphony Orchestra at Abbey Road Studios during the recording of Final Symphony:
---
Third movement: "The Planet's Crisis"
Again (again), on desktop, I recommend opening the track via YouTube, Spotify in a different window (or Apple Music via iTunes) so you can stop and start as you follow along (the YouTube video is embedded below).
On mobile there's Spotify and Apple Music. Headphones are advised, so you can hear the detail.
The third and final movement of this wonderful, intricate symphony is all about the heroic party leaping into battle following the murder of Aeris at the hands of Jenova-Sephiroth; Cid and Nanaki (AKA Red XIII) show up as the team assembles to battle Jenova•SYNTHESIS; before the Lifestream comes to the rescue.
It draws upon the largest number of individual Uematsu tracks from the game compared to other movements, although some are only referenced momentarily:
The Countdown Begins
Opening Theme ~ Bombing Mission
Cid's Theme
Cosmo Canyon
The Great Warrior
Jenova Absolute
Tifa's Theme
Main Theme (AKA Cloud's Theme)
One-Winged Angel
On that Day, 5 Years Ago
World Crisis
The movement is loosely formed around the idea of a rondo: a musical structure where a refrain (in this case from The Countdown Begins) alternates with different contrasting themes (or 'episodes'). If the refrain was 'A' and two episodes were 'B' and 'C', a typical structure might look like ABACA.
Valtonen explains: "The rondo structure has historically been used for final movements of symphonies. Each time we hear the refrain from The Countdown Begins, it distorts or dissolves more and more each time it's repeated, eventually becoming the Lifestream." As well as the explicit refrains that we chart below, he mentions: "You can also hear The Countdown Begins at other points (middle voices etc.) — I'm using it to glue the different pieces of the movement together."
We would also hazard a guess that this is (probably) the first occasion where a JRPG turn-based battle has been rendered within a classical symphony, as the team fight the be-tentacled, horror-erotica monstrosity Jenova•SYNTHESIS:
Captain Fantastic… – 0:00 - 0:49
This movement kicks off with a portentous trumpet chord, immediately overrun by a hurried ostinato being played by the woodwind accompanied by a glockenspiel. It's the same music that kicks off Uematsu's The Countdown Begins cue, which plays as Cid's space rocket launches; as mentioned above, it serves as the aforementioned refrain of the movement's rondo structure:
At 0:28 of The Countdown Begins, we get a blast of the theme of Cid's Theme — The Captain himself — which similarly occurs at 0:30 of the movement led by the French Horns. The team has taken flight.
Our ragtag team has been 'activated', as Valtonen puts it, and is racing to the final battle aboard the airship, Highwind. "I like the contrast between this opening to the movement and the end of the second movement. Aeris has died and the team has been alerted — they're energised to defeat the bad guys.
"And Cid is the pilot who is taking them to the battle. He represents the team, because by piloting the Highwind, he makes this adventure possible."
Tetsuya Nomura's original character art for Nanaki (AKA Red XIII) and Cid Highwind:
Speaking of ragtag teams, it all sounds a bit Star Wars-y at this point, as Valtonen recognises: "They [the London Symphony Orchestra] are the 'Star Wars Band' in a way, so if you write it like that, it will come out a bit like that." Of course, the LSO famously recorded many John Williams scores including the first six Star Wars films, Superman, the first Indiana Jones film and a couple of Harry Potter's. "Working with the LSO has literally been my dream for the least 40 years. When I hear them playing things I've written — and, of course, Nobuo Uematsu's great material — I'm still speechless, even though this was recorded in early 2015."
...and the red-furred dog-panther – 0:49 - 4:35
We hear a familiar melody from Cosmo Canyon (AKA Valley of the Fallen Star) delicately played by the woodwinds — specifically the melody from 1:02 of the soundtrack cue. Our red furry friend Nanaki (AKA Red XIII) has joined the fray, but is typically thoughtful about his approach.
1:20 sees the strings — including the loooooow double-basses — picking up the yearning melody. Perhaps this second interpretation represents Nanaki's adoptive grandfather, Bugenhagen, replete with his arcane, planet-saving wisdom. Valtonen explains that all the thematic material here is all about 'activating' and pushing the team forward; this includes loosely referencing the various moments in the game where Bugenhagen explains the global stakes to the team.
At 1:35, Cid's theme is still hanging around, before a solo trumpet plays (at 1:50) a beautiful rendition of what could well be referred to as Seto's theme from 0:54 of The Great Warrior — Seto being Nanaki's father (he of noble sacrifice).
Valtonen also borrows the tribalistic, rhythmic percussion from the original Cosmo Canyon cue to maintain the pace. He comments that this section was designed to be an 'easier' listen for the audience before things get more hectic during the battle proper.
We're very much in the realm of Joe Hisaishi's score for Princess Mononoke — music that evokes a fairytale vision of Japanese forests during feudal times, and a certain nobility of spirit (and isn't a million miles away from John William's signature melodic sound):
At 2:28 of the symphony movement the strings take up the main melody whilst an anxious counter melody weaves and out, heightening the sense of our team's struggle.
At 2:58, Valtonen resets with the Countdown Begins refrain, before a solo clarinet (3:05) gives us blast of the familiar theme from the very beginning of the game (from 0:40 of the Opening Theme). This morphs into the similar-sounding Cid's Theme, which returns in the strings at 3:13; and by 3:42, the second section of Uematsu's original Cid's Theme cue — with all its lovely countermelodies — is fully voiced by the orchestra. It's stirring stuff, until 4:09, when it starts to become entangled with the Countdown Begins refrain.
Our team has broken through to the final boss…
Absolutely boss – 4:35 - 6:22
The orchestra plunges headfirst into a relatively straightforward rendition of the Uematsu cue, Jenova Absolute — albeit with a furious pair of claves replacing the rhythm sounded by a tambourine in the original. 4:52 sees the brass pile in with some enormous chords. The boss battle has begun.
The team fights Jenova•SYNTHESIS to the tune of Jenova Absolute:
At 5:21, we hear a grouping of instruments, including a xylophone, violently hammering out a counter rhythm that sounds almost like a fire alarm; this section is extremely rhythmically dense, but it is entirely faithful to Uematsu's battle and boss themes from this era.
As with the Final Fantasy VIII Battle Theme (and for Final Fantasy X) the track Jenova Absolute sounds a bit like an extra-excitable TV news music sting. Funnily enough, David Lowe created the current BBC News intro music in 1999 (two years after Final Fantasy VII and the same year Final Fantasy VIII was released). There must have been something in the water.
The movement settles into a groove at 5:29, with the brass and snare drum driving proceedings all the way to 6:11, where we hear the Countdown Begins refrain again until 6:23.
Then things get… experimental.
Fight club – 6:22 - 9:28
Valtonen then explicitly stages a turn-based battle… within a piece of classical music.
Everything dies away to silence, before Tifa attacks Jenova-Sephiroth at 6:29 — an orchestral stab precedes a snatch of her theme played by the strings, which again fades away to nothing.
10 seconds later, Cid attacks, with the horns and bassoon sounding his theme.
Tifa attacks again...
...before Jenova-Sephiroth retaliates via all the lowest instruments in the orchestra (bass drum, tuba and double-basses).
Cid builds up to his next attacks — four in a row, each rising in pitch.
An uncertain lull descends from 7:03, during which we hear a discreet, distorted version of the Main/Cloud's Theme.
Jenova-Sephiroth attacks with snippets of One-Winged Angel at 7:25, just before Valtonen constructs another wonderful brass chord note by note — again highly reminiscent of Don Davis' score for The Matrix.
The final boss strikes repeatedly, with frantic xylophone notes making it sounds like a rattlesnake attacking.
We're plunged into a discordant miasma of held strings notes at 7:46, whilst the woodwind play an ugly version of Tifa's Theme — has Tifa been knocked down to critical health?
More attacks fly back and forth before Cid unleashes his Limit Break (8:06).
In response, Jenova-Sephiroth powers up a giant attack sequence involving brass stabs of One-Winged Angel's 'SEPH-I-ROTH!' refrain; and the strings whip up an anxious whirlwind around the party.
At 8:44, we again hear a highly distressed minor version of Main/Cloud's Theme (set against the Countdown Begins refrain in the high strings) not unlike that from the beginning of On that Day, 5 Years Ago, just a lot more intense. Cloud is being targeted by a potentially devastating enemy spell…
All of a sudden, at 9:15, everything breaks down, with the individual orchestral players scurrying around randomly like a 100 balloons with the air being let out, flying hither and thither.
As theorised above, Valtonen might be the first symphonist to depict a video game mechanic in a classical work. "The concert/record producer, Merregnon's Thomas Böcker, and I debated for quite a long time about how to approach this 'fight'. He didn't want to have a 'normal' fight here — so I tried to do it in a particular way, and I'm happy how it turned out. Originally, I tried to represent all of the game's battle sound effects and spent a long time trying to make it work, but it ultimately didn't.
"This was my biggest nod to the gamers in the audience. If you get it, you will probably smile."
Fantastical finale – 9:28 - 12:49
Things become eerily still, with only a tiny handful of instruments maintaining a woozy wail including muted trumpets that sway in and out of tune. It sounds a bit like a distant air raid siren crossed with the whale song from Star Trek IV: The Voyage Home. Indeed, it wouldn't be out of place during the quieter moments of a psycho-horror game like Silent Hill.
A piano gently introduces the planet Gaia's Lifestream to proceedings at 9:39 — the sum of all the spiritual energy of all living things, past and present. By 9:53, Valtonen has introduced Uematsu's Lifestream theme from [5:54 of] World Crisis, which plays over the climactic ending cutscene of the game:
The team look on helplessly from the airship as Aeris' Holy spell backfires and begins to destroy the city of Midgar directly underneath the onrushing meteor — the space rock that Jenova-Sephiroth has summoned to critically wound the planet. But the Lifestream erupts from the ground from across the whole of Gaia and, as millions of onrushing tendrils of light, directs itself to the epicentre of the action. A blinding flash is emitted that, we assume, indicates the obliteration of the danger and the saviour of all life on the planet from a cataclysm.
In reinforcing the rondo, Valtonen points out that the opening patterns of the Lifestream theme are very similar to the section of The Countdown Begins that he's been using as a refrain: "I find this pretty cool, and it's probably what Uematsu intended as well. The 'countdown' has turned into Lifestream." Indeed, this is the last shadow of the rondo during the movement.
"I really like this piece from the game and I just wanted to lift it [almost exactly as it is]. It's pretty much the whole idea of the game — that the Lifestream wins over Jenova-Sephiroth. That's the reason the Lifestream material in this final movement continues all the way to the end even as the big climax fades away: as a force, it keeps on going forever and ever. Life is saved."
Around 10:03, we hear a tinkling piano, which could be the return of our tweeting birds. As pleasant and lush as this is, there are complicated harmonics at play with Valtonen's voicings, especially in the woodwind arpeggios which play throughout this section, giving everything even more of an ethereal air.
He explains: "It is dissonant, but it is organised through the harmonic series to create a kind of spectral music." For a proper explanation of harmonic series, Wikipedia's your friend, but it's essentially the idea that a note — say, a C played on a Cello — is actually made up of several different notes of different pitches (overtones). You don't really notice that they are there, but layered one on top of another, they add up to what you think of as a single C note on a Cello. Sort of.
Harmonics on C:
Around 10:42 of the movement, we start to hear unnerving piano notes poke out like the beep of a heart monitor, whilst the trumpets ghost in and out also with peculiar but intriguing chords.
Everything builds to 11:05, where our Finnish composer-arranger channels the music of the Japanese Nobuo Uematsu through the symphonic stylings of the 19th/20th Century great, Jean Sibelius (also Finnish). If you've never heard the final movement of Sibelius Symphony No.5, listening to it is to achieve euphoria-by-brass section:
In other words, if you like your symphonies to properly climax at the end, you're in good hands with a Finn.
At 11:40 of the movement, Valtonen adds the Main/Cloud's Theme to the tail of Uematsu's triumphant Lifestream theme via the brass, which brings us to the first of our giant finale chords at 12:07.
If you thought it couldn't get any more climactic, you're in for a surprise when, at 12:30, the orchestra wallops out a humongous key change… Before thundering straight into another, EVEN LOUDER key change to bring us in somewhat of a circle to C major (the symphony started in C minor).
Valtonen admits: "I wanted to end the symphony by having this switch from the opening chord of the first movement, which is minor, to the major version by the end — to show that everything is now good."
When asked whether big endings are easier to write than other parts of a symphony, he replies: "Yes... and no. It's easier in the sense that you know that there's going to be a big crescendo and build towards some majestic brass playing. The hard part is actually doing it and writing it so it's playable for the orchestra; and that you don't give up the dynamics [i.e. build to a loud finale] too quickly. It needs to feel like the right amount of time."
Lifestream finds a way – 12:49 - 14:06
From 12:49 to the end, as the ultimate chord starts to fade away, the strings quietly imitate the tendrils of the Lifestream continuing on. The goal having been achieved, the spirits return to the earth — after all, life goes on even after a crisis.
13:01 treats us to a solitary French Horn playing Cloud's Theme for the last time; before the celesta and tubular bells playing the seven-note melody from the very opening of the game when we first see Aeris. This is a direct quote from the game, which shows Aeris's face one last time (accompanied by this musical motif) before the credits role.
The final shots of Cloud and Aeris in the game:
A spooky bed of string harmonics (a technique for creating high, ghostly-sounding notes) gradually fades to nothing, testament to the incredible control of the professional players from the London Symphony Orchestra. Playing loud is easy; playing quietly, deftly, is quite another.
Valtonen adds: "I had this idea that the Lifestream continues on — it goes on shimmering to the end and disappears back to where it came from. I also wanted the symphony to end with an introspective feeling rather than just a big 'Boom!'. The game has a happy ending, sort of — they did save the day, after all — but a lot of sad things have happened."
And that's Jonne Valtonen's and Nobuo Uematsu's Final Fantasy VII symphony!
---
Final alchemy
It's easy for me to wax lyrical about Valtonen's (as well as Roger Wanamo's and Masashi Hamauzu's) Final Symphony arrangements of Nobuo Uematsu's beloved music because the standard of work on the record is impeccable (and, after all, we are selling the thing on beautiful deluxe vinyl and CD).
But forensically picking apart Valtonen's Final Fantasy VII piece — the symphony of the Final Symphony suite — reveals it to be a work born of the most extraordinary artistry and attention to detail. 'Fair enough', you might point out, 'but he is working with Uematsu's cherished original material (from one of the most popular games ever released) and giving the thing to the London Symphony Orchestra to play'.
This is no mere re-arrangement of notes though. It's challenging to play (even for 'the Star Wars band') and it's a satisfying challenge to listen to. The colours and textures that Valtonen coaxes out of the LSO are wondrous — an achievement not dissimilar to Uematsu's coaxing of the original PlayStation's sound processing unit. We're so very, very far beyond the bleeps and bloops of the 80's arcades machines that catapulted 'video game music' into the popular imagination: this is proper classical music, based on a video game.
And, as dark as the Final Fantasy VII gets in places (and you might fault Valtonen for not including enough of the game's chiruppy humour), there are multiple 'goosebumps' moments to melt the heart or stir the spirit.
There is so, so much to unpack for fans of the game and its score, I hope people continue to pore over this wonderful symphony for decades to come.
Final Symphony recording session at Abbey Road Studios, February 2015 — from left to right: Jonne Valtonen (arranger), Eckehard Stier (conductor), Nobuo Uematsu (godlike genius), Thomas Böcker (producer), Katherina Treutler (solo pianist) and Roger Wanamo (arranger) [credit: Stefan Cohen]:
---
Keep an eye on The Sound Architect podcast feed for an audio interview with Jonne Valtonen about his Final Fantasy VII symphony in the coming weeks. (iTunes feed)
Other articles which might interest readers:
Final Symphony is available on deluxe CD and 3xLP vinyl at LacedRecords.com:
Keep up to date with Laced With Wax and Laced Records: