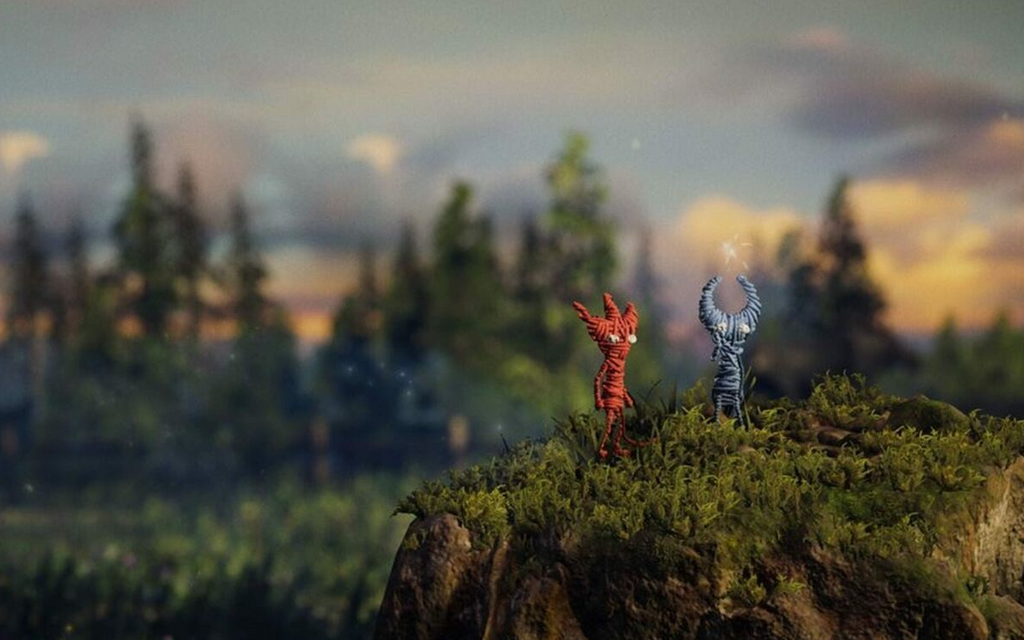 Kick back and relax to this playlist of original score and licensed tracks from video games, picked to help lift your spirits in troubling times.
By Thomas Quillfeldt
For a long time, I've found certain video game music relaxing, similar to the people who say that they listen to classical or jazz to unwind. Because almost every video game is about tension and release in some way, it means that there are many thousands of hours of mellower soundtrack music. Composers creating original score or music supervisors picking existing music try to capture a sense of calm amidst a storm, or are trying to gently will the player forward in their endeavours.
These track picks are a mixture of orchestral & choral, electronic and folky palettes, unified somewhat by lush reverb and a laid-back ambience. There's no special reason that most of the list is drawn from the last five years, but, personally speaking, they haven't exactly been anxiety free times. These beautiful tracks, and the inherently escapist medium of video games, have to some extent helped alleviate tension.
---
"Hope" by Daughter
Life Is Strange: Before the Storm (2017)
Album: Spotify | Apple Music
Indie band Daughter spent more time recording this soundtrack than they would have done with one of their own albums. The goal was to make music that perfectly fit the tone of the game and protagonist Chloe; with a secondary objective to make a soundtrack that would stand up on its own. Mission accomplished.
"Hope" sounds like a sunny Californian coastal drive (despite the band being from London and the game being set in Oregon.) It features direct and affecting lyrics: 'Go back to where you held armour against your skin.'
Check out this Kotaku piece on the soundtrack.
---
"You Must Rebuild" by Inon Zur
Fallout 76 (2018)
Album: Spotify | Apple Music
The world of Fallout is about death, despair, and dessicated landscapes; also cynicism and sinister deeds. But hope can also be found in the Wasteland, and that feeling is communicated powerfully through various cues by composer Inon Zur for the MMO Fallout 76.
With "You Must Rebuild", Zur dances through major, minor and suspended chords so that every melodic phrase enjoys some tension and release.
Laced With Wax interviewed Inon Zur in 2019.
---
"Bright as Day" by Frida Johansson & Henrik Oja
Unravel Two (2018)
Album: Spotify | Apple Music
Scandi-folk and traditional instruments set this beautiful soundtrack apart, and there's a cool gentleness to the mellower tracks that make them a warm bath for the mind. Johansson and Oja make what is digital and rigid — a puzzle-platformer where you progress or don't — and make it feel earthy and organic.
"Bright as Day" sounds a bit like standing on a hilltop surveying a Norwegian forest at dawn whilst clutching a cup of hot chocolate and wearing a thick woolen jumper.
---
"The Oh of Pleasure" (1984) by Ray Lynch
Grand Theft Auto IV ("The Journey" radio station) (2008)
Album: Spotify | Apple Music
Is there a soul in the universe that hasn't discovered great music through a Grand Theft Auto game? Even though it's as easy to switch to a radio station more to your liking, you can trust the taste of the Rockstar playlisters to broaden your horizons.
"The Oh of Pleasure" is pure synth bliss. Ray Lynch resisted the genre 'New Age', preferring to think of himself as a classical artist.
---
"Kongo (The Medieval Era)" by Geoff Knorr
Sid Meier's Civilization VI (2016)
Album: Spotify | Apple Music
"Baba Yetu" might still command headlines as being the uplifting piece from a Civilization title, but there is so much more music to consider from the rest of the series.
"Kongo (The Medieval Era)" is a cheery classical/world music hybrid that will have you sailing to a Culture Victory as the Kongolese people in no time.
---
"Oh the Bliss (Reinterpretation)" by Dan Romer remixed by Hammock
Far Cry 5 (album: "We Will Rise Again") (2018)
Album: Spotify | Apple Music
It should be said that the song "Oh the Bliss" in Far Cry 5 is (fictional) cultist propaganda and, as such, not necessarily recommended listening for relaxation. This track from the intensely gorgeous remix album by Hammock (whose tracks do appear in the game's loading screens) casts it in a whole new sundrenched light.
---
"Gramps/Night" by ACE (TOMOri KUDO, CHiCO)
Xenoblade Chronicles 2 (2018)
JRPG music fans have been spoiled rotten over the last five years: NieR:Automata, Final Fantasy XIV / XV / Brave Exvius / VII Remake, Octopath Traveller, Persona 5... And the Xenoblade Chronicles 2 OST stands shoulder to shoulder with all of them. Yasunori Mitsuda (Chrono Trigger & Cross) and team effortlessly shift gears between orchestral rock, choral works, instrumental duets, and more.
"Gramps/Night", by composer duo ACE, is a traditionally peaceful JRPG tune, led by solo flute and summery strings.
---
"Space" by Andrew Prahlow
Outer Wilds (2019)
Album: Spotify | Apple Music
Andrew Prahlow combined galactically wide sci-fi synths and homespun folk instruments on the Outer Wilds soundtrack. Somehow, he didn't just make these elements cohere, but also fused them to the core of the emotional experience. We could float forever to the reverb-soaked licks and looping lines of "Space".
---
"A Yearning for the Sky" by Gareth Coker
Ori and the Will of the Wisps (2020)
Album: Spotify | Apple Music
Gareth Coker has proved himself to be a master melodist who can stir the spirit with his trademark emotive Pixar-ish sound. His work on the Ori and the... series is unashamedly sentimental and a total joy to listen to for anyone with a heart.
As a soundtrack cue, "A Yearning for the Sky" is an emotional rollercoaster in and of itself, finishing up with a beautiful woodwind solo by Kristin 'Field of Reeds' Naigus.
We chatted with Gareth Coker about melody in soundtracks and his Ori and the Will of the Wisps score.
---
"The World We Knew (feat. Linnea Olsson)" by Daniel Olsen & Jonathan Eng
Sayonara Wild Hearts (2019)
Album: Spotify | Apple Music
Sayonara Wild Hearts took the idea of 'video game-as-pop album' to new heights; a sensory assault of neon colours and synth pop, and a celebration of femininity and queerness to boot. Composer-songwriter Daniel Olsen created warm and lush electro-pop, aided by the silken vocals of Linea Olsson.
"The World We Knew" is one of the more relaxed songs on the soundtrack, and opens up into a vast aural chasm every time it hits a chorus.
---
"That's the Way It Is" by Daniel Lanois
Red Dead Redemption 2 (2018)
Album: Spotify | Apple Music
Daniel Lanois is one of the great rock and folk producers of the last 60 years, having worked with Bob Dylan, Neil Young, U2, and many more. His musical taste is trusted by the biggest stars, so it should come as no surprise that Rockstar Games — who can afford the best — would bring him in to find a musical identity for one of the most lavishly produced games ever made.
"That's the Way It Is" is a simple song in melody, harmony, and lyrics. As with so much of Lanois' work, it's all about the vibe: of journeying at sunset; and pondering regrets as you leave them behind.
---
"Harry's Voyage" by Olivier Deriviere, Philharmonia Orchestra & Pinewood Singers
11-11: Memories Retold (2018)
Album: Spotify | Apple Music
Olivier Deriviere comes in for a lot of praise (from us and everyone else) for his cutting edge interactive music implementation. Ultimately though, he's a master of all trades: able to write a beautiful melody and tastefully employ different musical palettes both electronic and organic.
"Harry's Voyage" is a lovely, light cue from this World War I narrative adventure, where the choir and orchestra convey hopeful bounciness.
---
"Buena Vista Chuchel Club" by DVA
Chuchel (album "Cherries on Air") (2018)
Album: Spotify | Apple Music
Czech band DVA provided the frankly bonkers soundtrack for another fairly bonkers Amanita Design (Machniarium, Botanicula) point'n'click comedy. On the OST album, track titles indicate which musical/cultural thing is being spoofed, e.g. "Chvchls", "Chuchel Walk with Me", and so on.
"Buena Vista Chuchel Club" is a sunny, funny, loose and charming nod to the '90s Cuban music phenomenon.
---
"Heavenly Clouds" by Damjan Mravunac
The Talos Principle (2014)
Album: Spotify | Apple Music
Croteam's in-house composer (and Chief Marketing Officer!) Damjan Mravunac likely gets more time to live with and shape the sound of his games than most. His score for The Talos Principle is all about restraint, subtlety and ambience, but still has melodies that cut through.
"Heavenly Clouds" underscores a particularly glorious-looking level. The track title pretty much says it all.
---