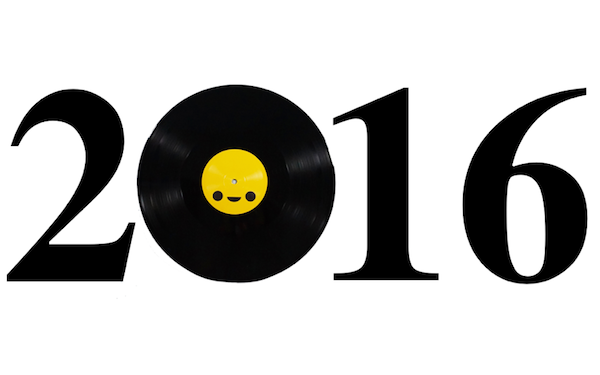 It has been a busy 12 months here at Laced Records HQ and we've been beavering away creating extra special releases, taking pride in every little detail.
Here is a round-up of our 2016 releases, bringing together product details, artwork and relevant links.
---
ENTER THE GUNGEON: HEART IN HALVES EP
SOLD OUT
Rapper/producer doseone reworked his original soundtrack for Dodge Roll's Enter The Gungeon to create the Heart in Halves EP, available on vinyl from Devolver Digital's merch store.

---
HOTLINE MIAMI: COLLECTOR'S EDITION VINYL
Over March and April, we ran a Kickstarter campaign that received almost FOUR TIMES the funding we'd hoped for (an incredible £156k versus a target of £40k—thanks to all backers!). The result was this sumptuous triple 180-gram vinyl set with art by original Hotline Miami collaborator El Huervo (Niklas Akerblad) and Protski.
The 22-track album is one of the great collections of underground electronica with this edition including four additional tracks by Perturbator, M|O|O|N, El Huervo and Jasper Byrne.
The Hotline Miami Collector's Edition vinyl cover, by Niklas Åkerblad (El Huervo):
---
NO MAN'S SKY: MUSIC FOR AN INFINITE UNIVERSE
Sheffield rock band 65daysofstatic created the soundtrack for No Man's Sky and we are proud to present the OST album as 2x and 4x vinyl, 2x CD and digital download. All versions include the full 10-track album and an additional six soundscapes from the game.
You can also find it on iTunes, Spotify, Apple Music and all major digital outlets. To find out more about the story of the album, be sure to check out:
Related articles:
— "65daysofstatic on scoring No Man's Sky: "We don't care what's not possible""
— "Interview: Hello Games' audio director on the sound and music of No Man's Sky"
— "On the record: Exploring the art of the No Man's Sky vinyl"
We headed up to Sheffield to film this very special live video of 65daysofstatic performing three tracks from the No Man's Sky soundtrack:
Caspar Newbolt and John DeLucca's cover for the No Man's Sky soundtrack album:
---
SHADOW WARRIOR 2: THE WARRIOR EP SPECIAL EDITION VINYL
Remember watching Transformers: The Movie as an 80's kid? And thinking you had The Touch?
The man who penned that slice of rock awesomeness, Stan Bush, helped to celebrate the release of the game Shadow Warrior 2 with The Warrior EP: a four-track vinyl featuring brand new track Warrior and Bush classics The Touch and Never Surrender (as well as an off-the-wall version of The Touch featuring Shadow Warrior 2's Lo Wang).
The 180 gram vinyl comes in black and very limited edition gold versions, both with a special screen printed reverse of the disc. The exclusive artwork is by noted Polish comic book artist Michał "Śledziu" Śledziński (there is also a limited edition print available). We interviewed Śledziu about his method, his inspiration and Polish alternative culture after the fall of the Iron Curtain.
Orders include a Steam code for Shadow Warrior 2: Deluxe Edition on PC, featuring the full digital original soundtrack, a digital art book and the Solid Gold Pack DLC. 
The Warrior EP screen print by Śledziu:
---
FINAL SYMPHONY - MUSIC FROM FINAL FANTASY VI, VII AND X
We teamed up with Merregnon Studios and Square Enix to bring you a deluxe triple vinyl edition of Final Symphony.
Recorded, mixed and mastered at London's legendary Abbey Road Studios with the London Symphony Orchestra, Final Symphony features classical arrangements from Final Fantasy VI, VII & X. The entire production was overseen by illustrious Final Fantasy composer, Nobuo Uematsu.
The album is also available to pre-order on deluxe double CD or bundled with Symphonic Fantasies Tokyo.
We interviewed producer Thomas Böcker about his mission to bring classic Square JRPG music to the classical concert hall. Here's a video interview with Final Fantasy composer Nobuo Uematsu and one of the beautiful tracks from the album:
---
SYMPHONIC FANTASIES TOKYO
As well as Final Symphony, we've brought Merregnon's Symphonic Fantasies Tokyo to vinyl and CD.
Performed by the Tokyo Philharmonic Orchestra, the release includes music from some of Square Enix's most cherished role-playing games, including Final Fantasy, Kingdom Hearts, Secret of Mana and Chrono Trigger/Chrono Cross. Tracks were mastered at Abbey Road Studios for this special vinyl edition.
Both Final Symphony and Symphonic Fantasies Tokyo are also available to pre-order in special vinyl and CD bundles.
We also have some beautiful limited edition inner sleeve prints from the Symphonic Fantasies Tokyo release, available on the store:
---
Thanks so much for your support this year—see you again in 2017! Keep in touch: