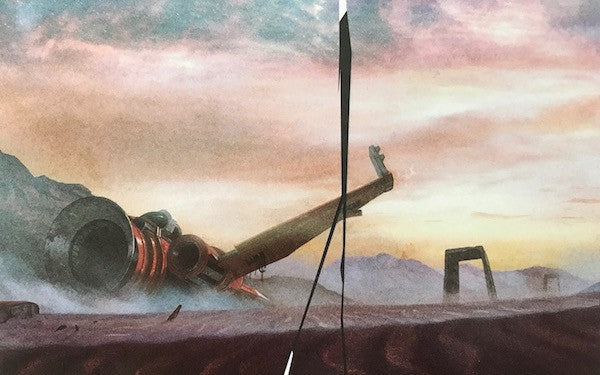 By Thomas Quillfeldt
How to depict an infinite universe? It's a question that has tested developer Hello Games in creating 2016's much talked about sci-fi exploration and survival game, No Man's Sky.
The largely generative in-game soundtrack draws its music cues from an album—Sheffield rock band 65daysofstatic's No Man's Sky: Music for an Infinite Universe—which Laced Records released in late 2016 on digital, double CD and double & quadruple vinyl LP. Unusually for a soundtrack, it's an album first and foremost: the sixth studio record by the band, crafted in much the same way as their previous projects.
This also meant 65daysofstatic teaming up once more with long-time collaborator Caspar Newbolt—AKA caspar (v)—to design the record sleeve. We chatted to the him about the process and the ingredients that went into creating the cryptic, epic artwork for the album.  
A long time ago in a galaxy not that far away...
Caspar came across 65daysofstatic in 2005 thanks to a flatmate taking him to a London gig. "I thought the show was fantastic. I was particularly struck by how they were just these punk kids in ripped jeans and t-shirts thrashing away next to a shitty PC laptop, yet somehow emitting this incredible electronic sound akin to Squarepusher or Nine Inch Nails."
Here's a video of the band playing Radio Protector live at the Small Town America all-dayer in 2006:
The following year, he checked back in on the band after opening a studio in New York. "I discovered the song Radio Protector, which sounded classic, timeless to me like, say, 1979 by the Smashing Pumpkins. I was entranced and wanted to help them go further somehow so I offered what services I could to achieve that. Their music and aesthetic seemed to fit perfectly with mine—at least that's what I told myself!"
After some back and forth, "it turned out we were all into the same stuff. Our regular conversations from that point on were layered with shared references and fuelled by a hopeless level of ambition to somehow change one thing or another about the world." The collaboration quickly bore fruit by way of a new website for the band around the time of their album, The Destruction of Small Ideas.
Caspar Newbolt's cover for 65daysofstatic's Wild Light:
Commenting on the beginning of the working relationship and collaborating with a band as hardworking and intelligent as 65daysofstatic, Caspar adds: "I don't think it would be fair to say it was effortless. We're friends, we get along well and the conversations are not all about work, but when it's time to work—we work hard. There are disagreements but there are great discoveries too. Together we push each other to do things we didn't know we could do and the results are always good.
"There has to be blood, sweat and tears to make anything good really, and these guys being no strangers to that concept either. They digested and analysed everything I did."
No Man's Sky: Music for an Infinite Universe 4XLP vinyl Disc 1 sleeve by caspar (v) and John DeLucca. The sleeve was printed with a matte lamination finish whilst the colour paintings were printed using a Spot UV coating:
Album first, soundtrack second
Caspar and the band's working relationship prior to the No Man's Sky project enabled them to keep the game's still-in-development artistic and aesthetic throughput at arm's length. "65daysofstatic have never paid allegiance to anything that might hinder them doing the best work possible."
He cites Daft Punk's TRON: Legacy soundtrack: "I remember listening to it knowing it was good because it was made before the [2010] film had even been shot." The French dance music duo had created the score based on their love of the original 1982 film, "which is a masterpiece and had arguably defined a large part of Daft Punk's aesthetic and sound. As such, their score was a eulogy to that first film and, as a piece of work, is a great deal better than the actual film turned out."
In this way, discussions with 65daysofstatic about the artwork for the No Man's Sky album were based on the premise that they were making a score based on a version of the game as it existed in their heads (indeed, they weren't to play the game until very late in the scoring process). The ideas for the artwork were to stem from this vision, rather than from the game's marketing assets.
Explains Caspar: "This meant that we were going to work on our terms and only needed to impress ourselves. We were working in the dark to a certain extent, but happily so. You simply can't do good work by committee. You have to be left to your own devices—although we were constantly aware of the fact that Hello Games or Sony might dismiss all of it because it wasn't aesthetically in tune with the final game.
"That ever-present sense of risk has always been there, working with 65daysofstatic. I personally had no idea if they'd even like what I was doing. We're friends, but that didn't mean they had to like anything I made! We were on our own in that respect and it lit a fire under our asses."
A universe of possibilities
To get started on such a project, Caspar explains: "You simply have to have a strong enough idea—one that translates well into multiple representations. In terms of themes for the record sleeve, "the band wanted to capture what it might be like both to explore space in all its infinite beauty, but also to understand humanity and everything we'd done to this planet and might do to others. Thus there was this inherent sadness in our comprehension of the great expanse. Pretty quickly, we were focussing on images that felt like they might be from another planet, but that already displayed a sense of destruction and abandonment."
The 4xLP vinyl Disc 2 sleeve:
"By the time we hit on our final aesthetic, regular collaborator John Delucca and I had two strong approaches that, if combined, would provide us with potentially infinite iterations. But we had to work very hard. There were a couple of entirely different approaches left on the cutting room floor which included custom graphics and entirely different narrative approaches to the project." Despite those versions being discarded, the effort wasn't wasted: "Without those we'd not have, nor believe so strongly in, what we have now."
The 4xLP vinyl Disc 2 sleeve reverse:
Most irregular
When quizzed about the irregular, cryptic black shapes that scar the disc sleeves, Caspar is tight-lipped: "Their meaning, whilst clearly articulated between the band and I, is best left open to interpretation. The poetry of an image is everything. Just like the scene in the horror film you can only hear but not see. Your own imagination serves you better than anyone else's ever will."
The 4xLP vinyl Disc 3 sleeve:
He admits that they're trying to communicate something by obscuring the images: "The moment I threw one of the shapes right over John DeLucca's beautiful paintings I knew we were onto something. It felt thrilling in a way I'd not felt about my work in a long time. In terms of the poetry of an image, I was forcing people to feel like something was unexplained or inexplicable. Here was something beautiful that you may never see fully with your own eyes. I wanted, with John's help, to created something clearly magnificent but also unsettling—a blind spot, a bad feeling, a void or an unanswered question. To me that said everything about what the band were trying to say with the music and consequently in our discussions about the artwork. Fortunately, they agreed with me!"
Detail from the Disc 2 sleeve:
Caspar agrees that it wouldn't be too strong to call it a defacement. "It's wider than that though, and perhaps a little less easy to articulate. What did Michelangelo Antonioni say? 'A film you can explain in words is not a real film.' I subscribe to that line of thinking completely.
"It was decided right at the end of a long process. We'd tried many things and I was losing sleep by this point. Then it suddenly hit me late one night in the studio and I knew it was right. I packaged it up and sent it to the band. In the morning I had an email back from them saying 'this is it.'"
Caspar also designed the artwork for the 2xLP and 2xCD editions of the soundtrack: 
Sci-fi typeface
The typeface for the record sleeve is Citizen. "I've had it on my hard drive for a long time, waiting for the right project. Everyone loved it from the moment I presented it."
The 4xLP back cover:
Caspar explains the two lines of thinking when it comes to typefaces and design. "On the one hand, there's only really about 30 good fonts and generally you can use those again and again and everyone is always happy. A well-made, timeless typeface will perform incredibly well in many circumstances—century after century."
Detail from the reverse of the Disc 4 sleeve:
"On the other hand, sometimes you need something entirely out of left field or perhaps even custom-made. When it comes to films, video games and to a certain extent record covers, this is often the case. Stanley Kubrick's A Clockwork Orange comes to mind and there are many other examples."
"The Citizen typeface spoke to me immediately in terms of the band's desire to create artwork that felt science fiction at heart, but also as if it had been photocopied rapidly and consecutively in a Taiwanese basement for the purposes of some underground political agenda."
Someone's got to be the last man standing
Now a New York-based designer, Caspar has a secret history as a game-maker: "As a 16-year-old back in England, I used to make shareware games with my old friend Jasper Byrne [developer of Lone Survivor and composer for games including Hotline Miami]. We made them exclusively for the Commodore Amiga. Sadly, I haven't gotten round to playing No Man's Sky yet but I would love to one day—I don't possess the hardware—or have the necessary free time!"
The 4xLP vinyl Disc 4 sleeve:
When it comes to tips for budding designers and artists, Caspar shares this anecdote: "At a dinner party, I once sat opposite a professor of music at Cambridge University called Alexander Goehr. I was moaning about the chasm between my aspirations and my almost non-existent success. I wanted to be good so, so badly and yet felt there were so many people better than me. And I was whining to a man so capable that he'd been offered a knighthood for his work. Once I'd finished, he leaned over, looked me in the eye and said 'look—someone's got to do it.'
"It dawned on me that I simply had to hang on, even if it was by my fingertips at times. Whether I was going to be any good was another matter, but if I could simply be doing the job longer than the next guy then one day, responsibility would land on me. And one day it did, and it seems I was good enough that it kept happening again and again after that."
The 4xLP vinyl box spine:
"I say that as someone who's never studied what he does. I taught myself how to use all the software I use. I get by purely on the desire to make beautiful work and work with those who'll encourage me to do so. If your work is good enough there's a point where they don't even ask for your CV. When employing people at my studio I certainly don't ask for that. We wouldn't even be talking if you work hadn't already gotten you in the room."
---
Caspar Newbolt AKA caspar (v) is an artist, graphic designer and filmmaker. You can check out his work at Rathausfilms.com (film), Versionindustries.com (design) and an archive of his album covers and other work at print.versionindustries.com. Twitter – @caspar_v; Instagram – @caspar_v.
You can see more work by artist John DeLucca at Johndelucca.blogspot.co.uk. Twitter – @JohnDeLucca; Instagram – @wrongemjohnny.
Related articles:
— "65daysofstatic on scoring No Man's Sky: "We don't care what's not possible""
— "Interview: Hello Games' audio director on the sound and music of No Man's Sky"
We headed up to Sheffield to film this very special live video of 65daysofstatic performing three tracks from the No Man's Sky soundtrack: