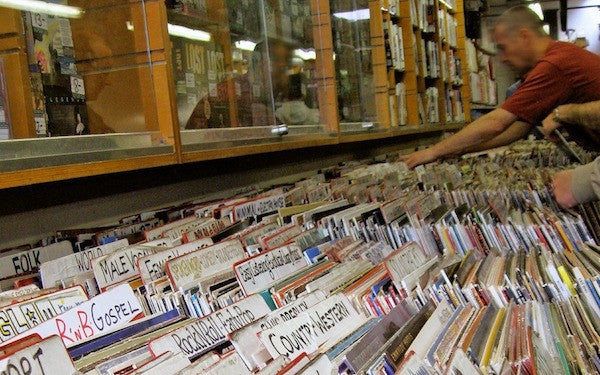 By Thomas Quillfeldt
2017's Record Store Day came and went (don't forget, fantastic independent record stores exist for the other 364 days of the year too!) and the Internet erupted in a geyser of vinyl love. We spotted a few releases that looked particularly tasty in terms of presentation—here's a mere smattering of what caught our eye...
---
The 'assault on the visual cortex' covers
The Black Angels – Death Song (LP - Partisan Records)
The Texas-based psych rockers The Black Angels have seemingly completed their tribute to The Velvet Underground in the naming of this album (The Black Angel's Death Song being a song from 1967 album The Velvet Underground & Nico). This double LP release, limited to 2,000 copies, features glow-in-the-dark vinyl discs and an awesome, brain-splitting black light cover (Discogs).
You can catch the rather good album on Spotify and other digital platforms. If the cover didn't give you a headache, the video for their lead track, Currency, probably will.
Ofrin – Remixes (10" - Albumlabel)
A current resident of Berlin, Israeli artist OFRIN offers up three tracks on this white disc 10" (Discogs), all recorded around the same time she was creating her most recent moody electronica album, 2016's Ore (Spotify). The vinyl sleeve artwork (by graphic design agency E. Maximilian P. Pfisterer – www.empp.de) has a bit of a Thom Yorke & Stanley Donwood vibe (that is, the black and white artwork for The Eraser and Atoms For Peace).
You can hear the three tracks—Black Box (Deadbeat Rmx), Direction Eclipse (Universal Vacuum Mix by Pilocka Krach) and Träume—on Albumlabel's BandCamp page.
(Listen closely to OFRIN's 2013 track, CAT & MONKEY and at 1:49, you can hear the 'finished copying' sound from Mac OSX. Such a creative lady.)
Here are a few more eye-catching releases. Clockwise from the top left:
---
🖖VGM vinyl 🖖
Hudson Mohawke – DedSec - Watch Dogs 2 (2xLP - Warp)
How do you make a game feel bang up to date in terms of contemporary style? Answer: Hire the most notable trap producer out there to create a huge sounding original soundtrack. Ubisoft's confident return with Watch Dogs 2 was complemented by its cutting edge score (Spotify) by electronica supremo and Kanye West regular collaborator, Hudson Mohawke.
This double LP (Discogs) is limited to 1,000 copies.
Brian Gibson – Thumper (LP - Thrill Jockey)
This limited red translucent vinyl edition (Discogs) is an alternative to the iam8bit Collector's Edition (which featured some beautiful Robert Beatty artwork) but is equally striking. The intimidating (some might say 'thumping') Thumper score (Spotify) was a side project for Brian Gibson, bassist and founder member of the band Lightning Bolt. Although this was a limited release of 1,000 copies, it does seem like there are some available from the Thrill Jockey label website.
---
R.I.P. Saruman the White
Christopher Lee – Metal Knight (10" - Charlemagne)
You may or may not be surprised to learn that actor Sir Christopher Lee—famous for playing Dracula, Saruman, Lord Summerisle, Scaramanga, Count Dooku and many more—was devoted to fantasy Heavy metal, recording multiple albums right up to his passing in mid-2015. This 2014 EP (Spotify) was recorded when he was a mere 92 years old! (It's very, very silly)
This picture disc pressing (Discogs) is limited to 500 copies. As with all the official Record Store Day releases, any remaining stock will be available online on the 29th April (i.e. strictly one week after Record Store Day itself).
---
If there are any beauties you spotted—or if you were lucky enough to find and purchase something cool for yourself—send us a pic! We hope to have something ready for Record Store Day 2018—keep an eye out for more info...