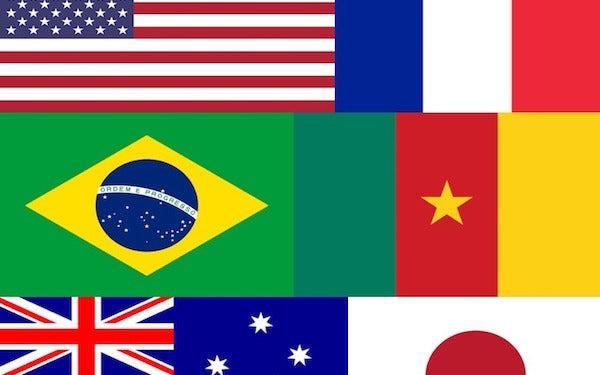 We were inspired to take a snapshot of some fantastic composers and recent video game scores from across six continents.
By Thomas Quillfeldt
We're all totally and utterly spoiled by the quality of modern video game music (says me). Thanks to this newfangled thing called 'The Internet' there's effectively an endless supply of wonderful soundtracks to check out, with evermore ambitious and high quality new scores coming down the road — and they just keep coming.
Musically speaking, 'video game music' is not a homogenous genre, indeed, it barely even serves as a useful umbrella term similar to the diluted, catch-all labels 'rock' and 'hip-hop'. Within VGM, we've seen all manner of genres explored, blurred and blended — something worth celebrating on the regular, even if game scores across the board could stand to be more diverse in terms of composers, performers, instrumentation and implementation.
I was left feeling inspired by the recent Laced With Wax interview with Ryan Ike, composer for Where the Water Tastes Wine, who was tasked with soundtracking the whole of the USA. He attacked this Herculean task through thorough research and adopting a true spirit of collaboration — and has broadened people's expectations of what a game score can be in the process.
Also inspiring were the replies to Rami Ismael of Vlambeer's thread tweet asking developers and artists from/in places other than the West and Australasia to reply and big up their projects in an effort to highlight the diversity of games on offer globally.
Which made me think: excellent video game soundtracks can come from anywhere in the world. So, for no more concrete a reason than to indulge that fairly trite thought, here's a quick celebration of six recent scores by composers spread across several continents. The picks were (more or less) chosen to highlight how broadly the label 'video game music' has been stretched in the last few years.
---
Dandara by Thommaz Kauffmann
São Paulo (composer) / Belo Horizonte (developer), Brazil
I first got excited about the score for the Brazilian-developed pixel-art title Dandara when I heard "The Relentless Choir" playing over the launch trailer:
As a teenager, composer Thommaz Kauffmann started to learn VGM tunes by ear on the piano, later falling in love with French Impressionist composer Claude Debussy — you can hear this influence in the piano-led soundtrack for Dandara. Compared to "The Relentless Choir", the rest of the score is more introspective, anxious and atmospheric, tinged with subtle percussion.
Links:
---
Get Even by Olivier Deriviere
Paris, France (composer) / Gliwice, Poland (developer)
At the Game Music Connect conference a few years ago, I had the pleasure of catching composer Olivier Deriviere's talk about Remember Me's dynamic music system. I understood about 10% of what he said, but I left with the impression that he's probably the cleverest and most ambitious composer working in video games (maybe beyond).
His latest score, Get Even, was recorded in binaural 3D sound (play the game with decent headphones for the full effect), and sees him pushing the limits of how music can be technically implemented into an interactive virtual experience. Plus, he writes a hell of a tune:
Even though Deriviere and the team at Polish developer The Farm 51 are up against serious competition for the British Academy Games Award for Music (other nominees include Horizon Zero Dawn and Cuphead), I wouldn't be surprised in the slightest to see Get Even win the BAFTA this year.
Links:
Special mentions (Europe):
---
Aurion: Legacy of the Kori​-​Odan by Jean Yves Bassangna
Yaounde, Cameroon
Composer Jean Yves Bassangna, one of the founders of Cameroonian developer Kiro'o Games, played a big part in bringing to life the colourful world of the Kickstarter-funded Aurion. The game features an African hero, Prince Enzo Kori-Odan, and establishes a game world inspired by African folklore and mythology. The 'aurion' of the title refers to the collective power of the prince's ancestors, on which he draws his power.
Links:
---
Resurrection: Panzer Dragoon Saga 20th Anniversary Arrangement Soundtrack by Saori Kobayashi and Mariko Nanba
Japan (composers) / Kuwait (record label)
The history of video games is dotted with cult releases that may not have attracted a great deal of attention from players, but the game's soundtrack enjoys a passionate fan base by itself.
1998's Panzer Dragoon Saga, released on Sega Saturn, is a perfect example of such a title. In 2018, to the delight of ardent lovers of Saori Kobayashi and Mariko Nanba's eclectic original score, Brave Wave has released a remade, remixed and revitalised version: Resurrection. The album features newly recorded parts by singer Eri Itō and live instrumentalists including Kobayashi herself on piano, flautist Maho Azuma and the Washington D.C.-based Triforce Quartet:
So the story goes, Kobayashi decided to oversee this release because she thought that the original soundtrack recordings sounded "cheap" — in part due to the Saturn's technical limitations, but also her own inexperience at the time of recording. The original sequencer data was lost, necessitating a by-ear recreation of the original parts.
Links:
---
Prey by Mick Gordon
Brisbane, Australia (composer) / Austin, USA (developer)
Apropos of nothing, I just discovered that the uber-talented, uber-versatile Aussie composer Mick Gordon is only a few months younger than me 😩 (32-33 at the time of writing.) This naturally prompts the self-reflective question: what have I been doing with my life?
In interviews, Gordon admits to being a single-minded type of person who overcomes (what he claims is) a talent deficit through sheer hard work, focus and attention to detail. While most people might know his work from the industrial metal-meets-ambient electronica soundtrack for 2016's DOOM, he further showcased his versatility with the nuanced score for the 2017 reboot of Prey.
The soundtrack to Arkane's immersive sim has got a bit of everything, including bluesy guitar, synth wave and trip-hop beats and grungy, grinding electronic sounds; all smothered in subtle layers of atmospheric ambient pads.
Links:
---
Celeste by Lena Raine
Seattle, USA (composer) / Vancouver, Canada (developer)
Whilst Matt 'Makes Games' Thorson's previous title Towerfall Ascension was a very well-regarded local party game, follow-up Celeste, co-developed with Noel Berry, came hurtling out of the gates with a 10/10 from IGN (it's currently sitting pretty with a Metacritic aggregate score of 91).
Not that numbers matter all that much. Along with just about every aspect of the game, reviewers and players alike were blown away by Lena Raine's sophisticated yet powerfully emotive score. It almost certainly helps that she joined the project only six months after work had begun — composers are typically hired during the last stages of multi-year productions — and was able to rigorously playtest how her music fit into the game as early as the 'grey box' stage of level design.
Like a lot of the tracks on the soundtrack album, "Scattered and Lost" builds and builds, leading with the piano — the 'voice' of the main character Madeline — before introducing arpeggiators, synth sounds, grooves and even a theremin. By the end, the track turns into a full-on DJ Shadow-esque breakbeat head-bobber:
And shout-out to Raine for creating a lovely addition to the 'Resident Evil save room music' sub-genre with "Quiet and Falling":
Links:
Special mentions (North America):
---
We're all ears to fantastic game music from wherever — stay in touch: