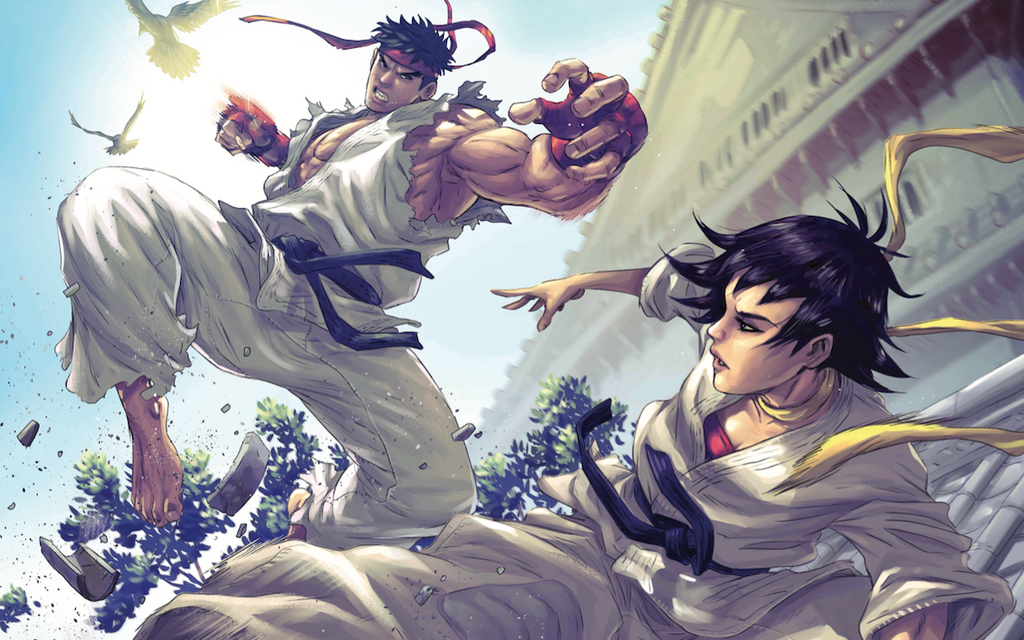 We chatted to Singapore-based illustrator Andie Tong about his artistic inspirations and his sleeve art for Laced Records' Street Fighter vinyl soundtrack series.
By Thomas Quillfeldt
In many ways, the 2D Street Fighter series was an intensified reflection of the 1990s — colourful, multicultural, globe-trotting, and people weren't afraid to rip their gi and show a bit of skin.
For 2020's Street Fighter III: The Collection vinyl box set, and the subsequent Street Fighter Alpha series vinyl releases, the Laced team looked to the comics world for an illustrator who could represent the movement, poise, and ferocity of the series' characters. And we think we hit the jackpot.
Andie Tong is a Malaysian/Australian comic book artist who has worked on a number of titles including Spectacular Spiderman UK, Green Lantern Legacy, Legend of Shang Chi, Masters of the Universe, TEKKEN: Blood Feud and Tron Betrayal. He also illustrated the Dynamite Comics adaptation of Robert Jordan's Wheel of Time series and Disney's The Zodiac Legacy; an illustrated novel created by Stan Lee and Stuart Moore.
At the time of writing, pre-orders have opened for the Street Fighter Alpha 3 triple vinyl featuring more of Tong's exceptional work — the Limited Edition is available exclusively via lacedrecords.com/collections/street-fighter.
Drawing inspiration
Tong's influences and inspirations are numerous, but he cites Canadian comic book creator Todd McFarlane — best known for The Amazing Spider-Man and Spawn — as the first artist that got him to pay attention and look into different art styles. "From there, it snowballed as I discovered Steve Ditko, John Romira Snr, Chris Bachalo, Joe Madureira, Arthur Adams, Olivier Coipel, and many others."

Tong says: "Over time, I started to check out more manga, anime and video game creators such as Hayao Miyazaki (Studio Ghibli), Katsuhiro Otomo (Akira), Masamune Shirow (Ghost in the Shell) and Akira "Akiman" Yasuda (Final Fight, Street Fighter II).
Art by (top left) Hayao Miyazaki for Spirited Away; (top right) Katsuhiro Otomo for Akira; (bottom left) Masamune Shirow for Ghost in the Shell; and (bottom right) Akira "Akiman" Yasuda's cover for Final Fight.
He explains: "With manga and anime, [the creative choices inspire me] both in how to draw action and also how to depict quieter set pieces. The use of dynamism and in-your-face angles adds to the urgency of an action shot — Japanese artists do this so well."
Ghost in the Shell by Masamune Shirow.
"When it comes to the quieter scenes, again the great manga artists know how to tell a story of a simple scene, such as a person eating or having a conversation. Many elements make a simple scene into a great storytelling moment: the gestures, sitting or standing position, facial expressions, and detailed background environments."
AKIRA by Katsuhiro Otomo.
"My favourite comic since childhood, and still to this day, is Spider-Man," says Tong. "I remember my parents taking me to the local magazine stand to buy as many different Spider-Man comics as possible. I would grab every title I could, including The Amazing Spider-Man, Spectacular…, and Web of... I used to own a lot of comics! Because of limited space, these days I only buy the collected graphic novels."
Spider-Man drawn by John Romita Jnr.
Fun and games
The heroines of Resident Evil drawn by Andie Tong.
With a demanding illustration career, Tong is a time-starved gamer who grew up on fighting games like Street Fighter and TEKKEN, before moving onto popular action adventure and RPG games like the Batman: Arkham and Final Fantasy. "I'm the type of person that gets consumed by what I'm doing. I'd start a game and, before I realised it, 10 hours had gone by. This is similar to my art: once I start drawing, many hours will go by before I remember to take a break, stretch, drink some water, etc. Due to lack of time though, I've only ever finished a handful of games."
Tong says: "I started drawing video game characters as soon as I started playing as them at the arcades — and even more so after I bought my first console. I was so inspired by the character designs that I would take a mental note, and then draw them as fan art when I got to my desk.

"In the beginning, I drew mainly characters from fighting games including Street Fighter, Tekken, Virtua Fighter and Dead or Alive. Later on, as I developed interest in different kinds of games, I would draw characters from Resident Evil, Final Fantasy, Metal Gear Solid, Parasite Eve, and more."
Tifa from Final Fantasy VII drawn by Andie Tong.
"Many years later, I got the opportunity to work with Bandai Namco to produce a comics mini-series to coincide with the launch of TEKKEN 7. It was a dream come true to be able to draw characters like Kazuya, Heihachi, Paul Phoenix and Nina Williams officially."
Check out @andie_t's phenomenal Heihachi live sketch for @TEKKEN #1 - order TODAY! https://t.co/ooMCVbRD5F Order code: MAR172030 @cavanscott pic.twitter.com/PDaEhElbwy

— @ComicsTitan (@ComicsTitan) March 23, 2017
Entering other worlds
Andie Tong is a co-author of Titan Comics' TEKKEN graphic novel.
Over the course of his career, Tong has had to immerse himself in various fictional and visually distinct universes including Tron, Spider-Man and TEKKEN — established worlds where many artistic interpretations already exist, both official and fan-made.
"I do tons of research before I even consider sketching anything. I'm not shy about seeing how different artists have approached a character, nor to be influenced by their interpretation.

"Another thing I pay special attention to is a character's clothing, so that even if I embellish it with my own trimmings and accessories, the character is still recognisable. Because I'm dealing with someone else's IP, I want to make sure the essence of the character is still intact."
A close-up of Rose from Andie Tong's front cover for the Street Fighter Alpha: Warriors' Dreams double LP.
Street Fighter is a series renowned for its character design, box cover paintings, 2D pixel art, and animation. As with any fictional universe, there is the officially published, 'canon' story and character relationships; and then the fandom's appreciation and sometimes appropriation and embellishment of it.

Tong jokes: "Thank God for Wikipedia! And there's also heaps of fan websites dedicated to these characters' history and costumes. As a casual gamer, I don't know the ins and outs of every possible character development that I need to draw on, nor am I able to play every game these characters feature in — it would take too much time. I'm so grateful that there are fans out there who catalogue every nuance of their favourite characters."
One of Tong's panels from TRON BETRAYAL.
Two fighters walk into a bar…
Tong admits: "I love drawing fighting characters outside of their usual environment. For example, Ryu having a drink at the bar with Ken after a hard day's training; Johnny Cage from Mortal Kombat having a morning jog while being chased by adoring fans; or Kasumi from Dead or Alive playing a fighting game on her mobile phone. I still love drawing the action shots too, as it's a chance for me to draw the characters in dynamic poses, but it's nice to break out of that expectation from time to time."
Chun-Li after training, drawn by Andie Tong.
"I also take great satisfaction in exercising some artistic license when drawing the characters in their various costumes. Occasionally I like embellishing the costumes a bit by including additional trimming or accessories, but keeping the basic design aesthetic intact."
The Hayao Miyazaki (Studio Ghibli) character Nausicaä, drawn by Andie Tong.
From cover to cover
Laced Records' Street Fighter III soundtrack vinyl, covering all three games in that series, was Tong's first foray into record sleeve design.

Andie Tong's front cover for the Street Fighter III: The Collection quadruple LP vinyl.

Although now a full-time illustrator, he previously worked in multimedia and design for around a decade. "For me, elements like page dimensions, design aesthetics and the fundamentals of positive and negative spacing are all part and parcel of the artwork creation process.

"There's a few of the Street Fighter sleeve illustrations that I enjoyed drawing in particular: I was especially pleased with the layout for Street Fighter Alpha 3. Whenever Ryu is included in a design, there's a certain demand for his character to be the focus of attention. I considered how I wanted Ryu to pose, and worked all the other characters around him."
Andie tong's front cover for the Street Fighter Alpha 3 triple LP vinyl.
"Sometimes it's difficult to balance the layout when dealing with so many characters. With Alpha 3 and SF3, it was a bit tricky to balance them to be aesthetically pleasing, but I think they came out alright!"
Tong also created the front covers for both the Street Fighter Alpha: Warriors' Dreams and Alpha 2 double LP vinyl set.

"Of all my sleeve pieces so far, the most fun was the panel with Yun and Yang having dim sum at a street vendor. Every once in a while, it's nice to see characters depicted doing something they don't do in the games, so this piece was a great change of pace for me to illustrate."
An inner sleeve illustration by Andie Tong from the Street Fighter III: The Collection quadruple LP vinyl.

___________________________________________________________________
Andie Tong is a comic book artist and illustrator – Twitter: @andie_t | Instagram: @andietong | Facebook | Artstation.
To find out more about his background and his drawing tools, check out this 2017 interview with TEKKEN Gamer.
At the time of writing, pre-orders are open for the Street Fighter Alpha 3 triple vinyl: lacedrecords.com/collections/street-fighter.
**images shown here are mock-ups**
The Limited Edition features pink galaxy effect discs, and is exclusive to the Laced store. The Standard Edition sports traditional black discs. LPs come in three printed inner sleeves, all housed in a widespined outer sleeve.
All music has been specially mastered for vinyl by Joe Caithness, and tracks will be pressed onto audiophile-quality, heavyweight 180g discs.