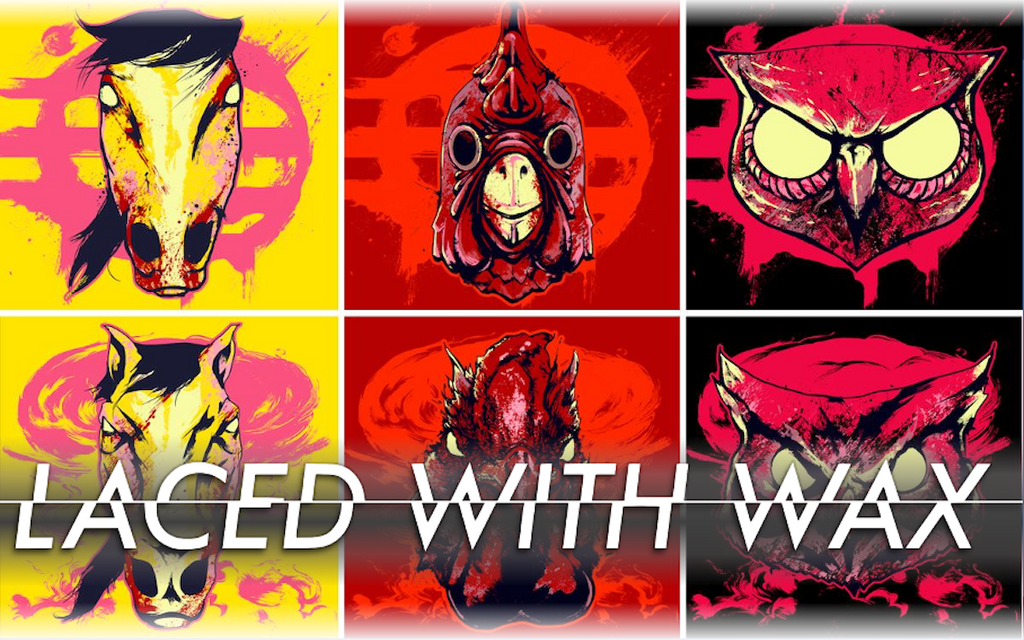 We highlight some of our favourite synthwave and electronica tracks that get players in the mood to battle bad guys — to the beat.
By Thomas Quillfeldt
"Banger."
Such a punchy, evocative word.
Reminds us Brits of sausages or fireworks, perhaps. In a music context, the Urban Dictionary states: "if a song is extremly [sic] tight or just unbelievably awesome, it is a banger." So there you are.
The playlist below comprises certified bangers that can more or less accurately be labelled as synthwave — an electronic music subgenre that people often associate with the hit indie game Hotline Miami.
It's also about that four-to-the-floor feel that, in the world of video games, is epitomised by the work of musicians Chipzel or Danny Baranowsky.
Pull up a plate of mash and gravy and dig into some meaty bangers...
---
"Knock Knock" by Scattle
Hotline Miami (2012)
Album: Spotify | Apple Music | SoundCloud
Generally held to be the game that introduced the gaming world to synthwave, Hotline Miami's soundtrack was handpicked by development duo Jonatan Söderström and Dennis Wedin (also known as Dennaton Games.) That act of curation became a work of art unto itself, with the collection of underground electronica still cited as one of the great albums.
A curious trend runs through the artists found on the Hotline Miami soundtrack — many of them are multi-disciplinary creators who gained a new legion of fans after the game hit. David "Scattle" Scatliffe was one such creator.
"Knock Knock" and other iconic tunes can bring back the feelings of the nervous twitchiness that players inevitably experience when reacting to the game's frenetic encounters.
Check out "How synthwave music inspired games to explore a past that never existed" via PC Gamer
---
Power Glove
Far Cry 3: Blood Dragon (2013)
Album: Spotify | Apple Music
Australian synthwave duo Power Glove's SoundCloud profile describes them as "two lawyers sent back from the streets of future, post apocalyptic Los Angeles 2043." Through an early music upload, the band may have inadvertently been responsible for confirming the unlikely rumour that Ubisoft was releasing a 'DL-sequel' for hit open-world shooter Far Cry 3 — set in a neon-soaked, futuristic world straight out of 1980s sci-fi.
Giorgio Moroder himself could have conjured up this dark, pulsing synth track; and the whole soundtrack follows on from Daft Punk's score for Tron: Legacy (2010) and Kavinsky's "Nightcall", made famous by Drive (2011).
---
"Styx and Stones" by Danny Baranowsky
Crypt of the Necrodancer (2015)
Album: Spotify | Apple Music
You cannot imagine a game like Crypt of the Necrodancer working without a Danny B soundtrack. He is a video game musician, his music quintessentially video gamey. He's neither leashed to the conventions of classic chiptune, nor stifling self-aware like commercial electronica acts.
Because of the structure of the game, the tracks frequently cycle through different musical sections — some airy, some tight — keeping things fresh and players on their toes.
---
"Future Club" by Perturbator
Hotline Miami 2: Wrong Number (2015)
Album: Spotify | Apple Music | Bandcamp
The Hotline Miami developers again put together a collection of killer electronic music to complement their violence-fuelled sequel.
Perturbator can be relied upon to bring the Cyberpunk and '80s horror vibes to the party — so-called "Dark Synthwave." "Future Club" wills us onwards with its minor chords and steady, side-chained kick and snare. Dense synths conjure images of pushing through crowds in rain-soaked downtown streets pursued by cyborg villains.
---
"You're Mine" by Carpenter Brut
Furi (2016)
Album: Spotify | Apple Music | Bandcamp
You can tell Furi developers The Game Bakers are especially proud of the original soundtrack because, in a rare move for game developers, they shared some sales number: as of February 2019, the Furi OST saw 21,000 in albums sales and 11,000 individual track sales; plus more than 22 millions tracks streamed on Spotify and on Youtube.
Carpenter Brut is among the heroes of video games-associated synthwave, having developed a sound that gets the blood pumping and the head nodding. "You're Mine" hurtles along at a furious pace.
---
Fixions
Mother Russia Bleeds (2016)
Album: Spotify | Apple Music | Bandcamp
Mother Russia Bleeds is an extremely violent co-op brawler set in an alternate history U.S.S.R. — quite the elevator pitch.
This thumper by French producer Vincent "Slo" Cassar (aka Fixions) is the perfect blend of dirty and angry, with a snare sound that sounds like a punch in a 16-bit brawler should.
---
"Dark Shivers" by Ari Pulkkinen, Tuomas Nikkinen & Harry Krueger
Nex Machina (2017)
Album: Spotify | Apple Music
Sh'm'up and bullet hell lovers have long sworn by Housemarque titles for their tight gameplay, neon aesthetics, and lots and lots of bits flying everywhere.
"Dark Shivers" is the kind of upbeat banger that belongs on a 'Fast & relentless' gym playlist.
---
"Doomed" by ToyTree
STRAFE (2017)
Album: Spotify | Apple Music | Bandcamp
Booting up throwback FPS STRAFE (spiritually released in 1996, actually relesed in 2017) runs the risk that your head will literally (figuratively) explode.
An important part of STRAFE's impact is its thumping score by Amos Roddy, aka ToyTree. Prior to working on the game, Roddy had never even heard of synthwave, although it was definitely a touch point for developers Pixel Titans. "Doomed" was Roddy's trial track for the project but was strong enough to be included in the final product.
Check out our interview with ToyTree from 2017

.
---
"Authority" by Chipzel
Octahedron (2018)
Album: Spotify | Apple Music | Bandcamp
Octahedron is a "vertical psychedelic platformer about making... your own platforms." Developer Marco "Monomirror" Guardia wanted to incorporate rhythm elements to the gameplay without it feeling automated.
Chipzel joined several other electronic music producers on the soundtrack, and delivered yet more killer synth tracks that one could listen to on loop, forever.
---
"Murdervator" by SKYMELT
Black Future '88 (2019)
Album: Spotify | Apple Music | Bandcamp
It wasn't enough for Don Bellenger to develop a synth-punk roguelike shooter — he also had to don his music hat and create a scintillating synthwave soundtrack too.
Black Future '88 is unabashed in its dystopian cyberpunk aesthetics, sporting neon lights, killer robots, smog, nuclear rain and improbable high-rise architecture.
Laced Records is releasing a deluxe LP of the Black Future '88 soundtrack with sleeve artwork by Zac Bolubasz. The sleeve boasts a special metallic gold and silver finish and is printed on Mirri board.
---
"Roxy" by Finishing Move Inc.
Crackdown 3 (2019)
Album: Spotify | Apple Music
Crackdown 3 may have had a troubled development, but its EDM soundtrack is banger central. Duo Finishing Move Inc. is made up of a pair of Brians — Brian Trifon and Brian Lee White.
Arguably, "Roxy" leans closer to dubstep than synthwave, but it's still got that head-nodding quality shared by more 'video gamey' picks on this list.
---
"Devil Trigger" by Casey Edwards feat. Ali Edwards and Cliff Lloret
Devil May Cry 5 (2019)
Album: Spotify | Apple Music
The Devil May Cry series came back with a bang (and a banger!) in 2019. Devil May Cry 5 saw players switching between playable characters Dante, Nero, and V.
A fan of the series, composer/producer Casey Edwards was tasked with coming up with the battle music for the young, impetuous Nero. The developers at Capcom had such confidence in "Devil Trigger" that the song was released as a single ahead of the game.
YellowMotion interviewed composer and producer Casey Edwards.
---
"Full Confession" by LudoWic
Katana ZERO (2019)
Album: Spotify | Apple Music | Bandcamp
Katana ZERO impressed with its neo-noir style and live-die-repeat structure. As soon as it was announced — a pixel art game about an urban samurai, published by Devolver Digital — you could have banked on it having a killer soundtrack.
The OST was led by Bill Kiley (who "writes beeps [that are] friends with graphics") and Dutch audiovisual artist Thijs Lodewijk, aka LudoWic.
---
"Hwy 501: Cavern Crossroad" by Makeup and Vanity Set
Overpass (2019)
Album: Spotify | Apple Music | Bandcamp
Studio Bean's rhythm adventure sees players drive and drift to the beat on a futuristic road trip where the skyline is always in sync.
Matthew Pusti, aka Makeup and Vanity Set, covers so much electronica territory in his soundtrack for Overpass that it's an astonishing achievement overall. A must listen album.
---
"On Fire" by Olivier Deriviere
Streets of Rage 4 (2020)
Album: Spotify | Apple Music | Bandcamp
It was always going to be tough to craft an authentic sequel in the Streets of Rage franchise, seeing as Streets of Rage 2 is one of the all-time greats. The Streets of Rage 4 development team went all out to create something faithful yet fresh.
Following up Yuzo Koshiro and Motohiro Kawashima's pioneering '90s soundtrack work was a tall task in itself, and it took an all-star team of musicians to even attempt it. The music line-up included Koshiro and Kawashima themselves, as well as Yoko Shimomura (Street Fighter II, Kingdom Hearts), Keiji Yamagishi (Ninja Gaiden), Harumi Fujita (Mega Man 3), and several more. Lead composer Olivier Deriviere (A Plague Tale: Innocence, Greedfall) continued to show off his dizzying versatility with this electro-stomper.
---
"Captain Haunt Phase 02" by Raison Varner
Borderlands 3: Bloody Harvest (2020)
Album: Spotify | Apple Music
Borderlands fans know that the series is secretly a vessel for quality electronic music, especially in the more zany DLC episodes.
Long-term series composer Raison Varner found those DLCs freeing in terms of soundtrack music — a chance to let loose. This fan-favourite track throws together 100 audio ingredients including whispering, spoken phrases, and snatches of sound effects.
We spoke to former Borderlands Music Director Raison Varner about his favourite tracks from across the series.
---