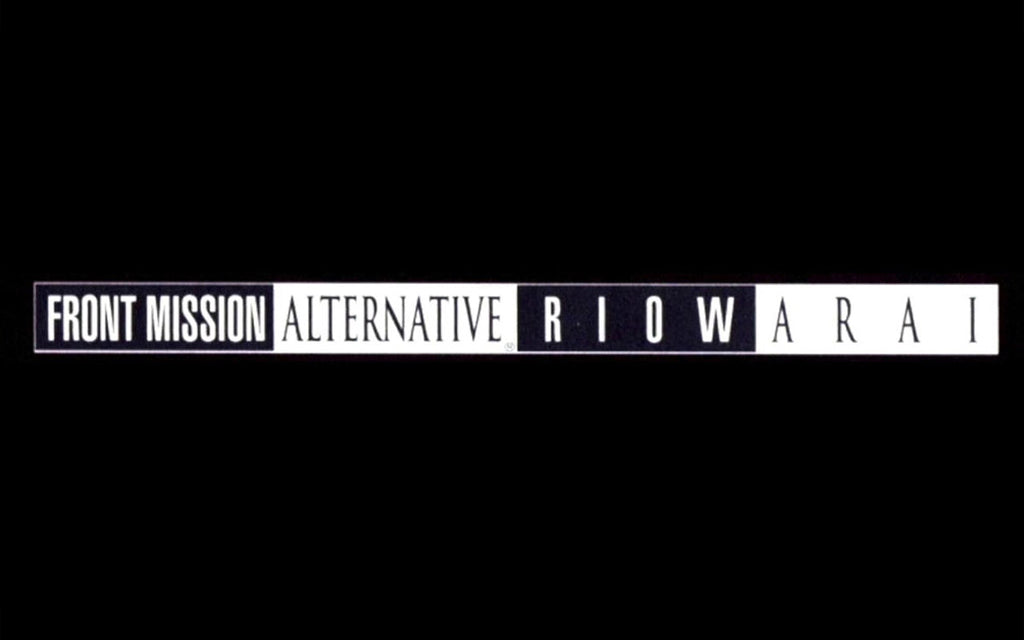 Front Mission Alternative composer and Tokyo-based beatmaker Riow Arai's innovative soundtrack lives on today in the form of hourlong loop videos posted to the musician's YouTube channel.

By Jerry Jeriaska (The Ongaku). Translation by Ryosuke Naoi.

In April of 2020, Riow Arai uploaded a three-hour live performance of the entire music score from Front Mission Alternative, streaming on the musician's YouTube channel. He explains, "Game music is meant to be listened to repeatedly while playing, so this is how the idea of a one-hour loop was given birth." In this interview, the composer offers his insights into the creation of techno music for the Sony PlayStation Front Mission title.


Front Mission Alternative composer Riow Arai
Briefing
In 1996, Arai was invited by Sega to create techno music for an arcade racing game, which was overseen by Enhance Inc. founder Tetsuya Mizuguchi, producer of Rez and Tetris Effect. Sega Touring Car Championship set a high bar for game audio of that era. Upon its arrival in arcades, the racer's sit-down cabinet was flanked by speakers on either side, and equipped with a subwoofer located beneath the seat.

Sega ported Touring Car Championship to the Sega Saturn console the following year. However, two of Arai's techno tracks for the racer remained unpublished. Before long, those stranded beats would find a new home.

At the time, a friend of Arai's was working on the staff of Front Mission Alternative at Square, and introduced him to director Masanori Hara. Alternative was experimenting with carving out a previously unexplored niche by substituting turn-based commands with real-time strategy.


Direct predecessor "Sonic Drive" from Sega Touring Car Championship

Techno was a natural fit, matching the immediacy of the on-screen action. Arai's background in performing live shows suggested this was a music genre that would sustain interest across extended, uninterrupted action sequences.

Hara offered Arai total creative freedom in pursuing a unique sound for Front Mission Alternative. This offer extended to the adoption of the unpublished Touring Car tracks, now known as "Town 01" and "Desert."
Utility
"Utility" plays while accessing the menu screen to save progress between missions. There is even an option to display menu items in English

Arai set to work on recording drum'nbass for action scenes. His signature genre of "listening techno" informed the direction of the game's establishment tracks, serving to introduce new locations.

"For FMA, game programming [data] was limited," he says of the PlayStation audio source files. "As a result, detailed expressions, such as ambient music, became impossible. Music had to be simple. For example, 'Airport' is inspired by House music." Instead of 'listening techno,' I decided to do dance floor techno—inspired by minimal techno and drum'n'bass. I thought that making people dance in a club was (comparable to) fighting in a game.

The resulting prototypes created for the real-time strategy title were entrusted to game composer Junya Nakano for translation into the PlayStation Sound Format (PSF) for optimal data compression.


Target (prototype) Meeting from the FA Soundtrack Demo

As described on his artist page, Riow Arai was born in Tokyo in 1969, and as a teenager he began mixing tracks and performing in bands as a drummer. In 1996, he released his first album, titled "Again," released through the label Frogman Records. A mellow, ambient sound involving elements of techno, breakbeats, and dub evolved into a personalized music genre.

In a conversation with Arai in 2007, coinciding with the tenth anniversary of the launch of Front Mission Alternative, he described how his music involved more ambient genres, favoring the styles of The Orb and Autechre:

"When it came time to classify my music, because it favored listening over dancing, inevitably it became known as 'listening techno.'"

"I listened to Yellow Magic Orchestra when I was a child, and it had a tremendous impact," Arai explained. "I bought a synthesizer, expressly for the purpose of making such music. At that time, the term 'Techno Pop' had come into use, because in Japan there was Y.M.O., New Wave, and punk. They all became popular around the same time, largely among young people. Still, I think people using synthesizers to make music were few in number, though there were a lot of people interested in rock music buying guitars in Japan. It was the first half of the 1980's."

An introduction to Arai's music in the form of a handpicked selection of 17 tracks is streaming on Spotify. Upon the passing of Yellow Magic Orchestra co-founder Ryuichi Sakamoto back in March, Arai posted a four-hour playlist commemorating the work of the composer. The selections include the main theme from "Merry Christmas, Mr. Lawrence" (1983) and "Rain" from "The Last Emperor" (1987).


Intro to Riow Arai Playlist
Sandtown
Prior to Junya Nakano's first solo game score for Square, the composer was assigned the role of music manipulator on Front Mission Alternative. Arai had just completed the mixing phase at his recording studio "Again Music," named after his debut album.

"I first met Riow Arai on December 9th of 1996 at the Square headquarters in Meguro, Tokyo. It was at 1:00 PM," Nakano recalls. "He provided me with a minidisc containing the demo sound source that he had created. It was then a matter of using this demo for the primary music tracks and supplementary audio content, and putting the finishing touches on the game soundtrack."

"My role was to meet with him at the Square headquarters on a regular basis in order to translate the music he created, using a Roland SC-88 and Ensoniq Sampler, for use with the PlayStation."


Front Mission Alternative promotional video (1997). Photosensitive warning: contains flashing images

Arai's keyboards employed in the creation of the prototype tracks included the Ensoniq ASR-10, Korg T3EX, Roland SC-88, E-mu Ultra Proteus, and Clavia Nord Rack.

As with Arai, character illustrator Ryuichiro Kutsuzawa had contributed to a Sega Saturn title just prior to joining the design team on Front Mission Alternative. The artist's detailed illustrations appear alongside the staff roll in the end sequence of the rail shooter Panzer Dragoon.

Kutsuzawa's portraits are integrated directly into the gameplay of Front Mission Alternative. During battles, a view of allies and antagonists, broadcast from inside their cockpits, pop up in a heads-up display. Snippets of written dialog serve both to flesh out the storyline and further character development.

Front Mission Alternative is set in 2038, two years prior to technological innovations that would give rise to the modular design of the Wandrung Panzer. To distinguish the prototypical mechs from the Wanzers of Front Mission 1st, the machines in the prequel are known as "wanderwagen" or (WAW). These newly mass-produced machines, developed as mine disposal units prior to their deployment on the battlefield, appear highly agile. The player's WAW is capable of leaping into the air and dodging incoming missiles.

The battlefield strategy of FMA predates the targeting of enemy Wanzers' arms and legs. Damage taken to WAWs is represented by a single health bar, as with helicopters, tanks, and the crablike mobile weapons encountered throughout the series' chronology.
Jungle
Percussive techno track "Jungle" plays during Mission One: Kisangani

FMA depicts a military conflict taking place on the African continent. Separatists dubbed the "ZAINGO" launch an armed offensive against the supernational West African military alliance (WA). The resulting territorial skirmishes are described in the Front Mission Historica reference book as the "African Conflict."

An elite team of WAW pilots based in Australia are sent in to assist the Southern African Union (SAUS) in quelling the violence, collaborating under the banner of the International Mobile Assault Company (IMAC). Protagonist Earl McCoy serves as a WAW pilot for the Oceanic Community Union's Ground Defense Force. He is joined by Dal Furphy, an engineer for OCU weapons manufacturer Jade Metal, along with Bruce Blakewood—whose involvement serves as a direct link to the events of Front Mission 1st: Remake.


"Briefing" prototype, preceding translation into in-game PlayStation Sound Format

Between missions Ide Sangorh, the Commanding Officer of IMAC, delivers briefings set to Arai's atmospheric techno track. As with Yoshitaka Amano's illustrations for Front Mission, Kutsuzawa's renderings of the protagonists display common sympathetic attributes. McCoy's teammates strike heroic poses, stoically putting their lives on the line in pursuit of ending the bloodshed.

The antagonists, by contrast, display crooked grins, facial tattoos, and slumped shoulders. These signifiers presage the introduction of Driscoll's Hell's Wall, an infantry division destined to butt heads with Wanzer pilot Royd Clive on Huffman Island in Front Mission 1st. It is the destiny of Blakewood's granddaughter Natalie to serve in Royd's mercenary unit Canyon Crow.

In addition to the overhead view of the game, the player can switch at any time to a first-person perspective from McCoy's viewpoint. FMA's designers created branching paths based on how quickly each mission is cleared. Separate locations and endings are encountered based on the player's skill level, incentivizing multiple playthroughs.
Airport
Airport (prototype), inspired by stylistic elements of House music

"FA PSF SOUND COMPLETE LIVE" took place on April 12th of 2020 at Arai's home in Tokyo. Since the soundtrack CD omitted several tracks found in the game, the live performance allowed Arai a unique opportunity to exhibit the entirety of the score, from start to finish.

As outlined in the composer's liner notes on note.com, the setlist included "Bonus," which was not intended to serve as a bonus track on the compact disc, but was written for a bonus stage in the game. All the audio was imported from the Playstation Sound Format source, providing a more authentic feel than listening to the compact disc release.

The full performance can be viewed on the musician's YouTube channel, alongside hourlong loops of music from the FMA soundtrack.


FA PSF SOUND COMPLETE LIVE recorded in April of 2020
RIOW ARAI is a trackmaker and beatmaker - Twitter @riowarai | YouTube - youtube.com/@riowarai. Japanese language article on note.com.


#YouTube #YouTubePlaylist#ElectronicMusic

FRONT MISSION ALTERNATIVE Soundtrack (CD version + α)https://t.co/G1GRBLGGwT

— RIOW ARAI ® リョウアライ (@riowarai) April 20, 2023