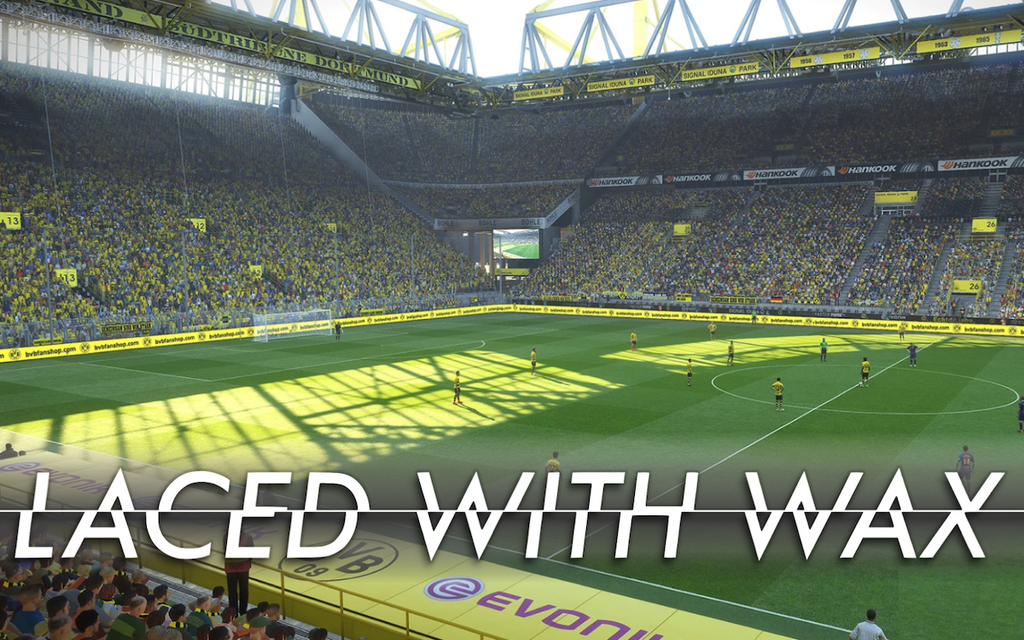 We spoke to music supervisor Lauren Wilson of sync agency Record-Play about using licensed music to push Pro Evolution Soccer forward.
By Thomas Quillfeldt
Most video games need music — a lot of it — to soundtrack the player's experience. And, for every sweeping epic with a lush orchestral score, or pixel art indie platformer with retro-ish post-chiptune ditties, there is a perennial sports or simulation title that needs something more in tune with the popular commercial music world.
For those not in the know, there are several specialist agencies whose job it is to suggest and organise pieces of music (i.e. license) for use in media, whether that's a film, a TV show, a video game, a trailer, or advert. These companies can also be known as sync agencies, licensing consultancies, music supervisors, and various combinations of those words. (Sync being short for synchronisation, as in synchronising a piece of music to a sequence of visuals.)
Around since 2003, Record-Play is one such music licensing consultancy — we chatted to music supervisor Lauren Wilson about the agency's work on Pro Evolution Soccer 2019.
Pushing PES forward
The process of licensing music into a game often starts with establishing a musical 'tone' that the developer is happy with, although an agency like Record-Play has enough experience to make an early educated guess and proffer some proactive tracks suggestions — especially for titles in well-established, long-running series.
For PES 2019, Wilson explains that choosing the tracks involved a lot of research, and sussing out how players want to feel when they're playing the game. She adds: "Suggestions also came through personal contacts gained in the course of being a music supervisor. It's part of the job to foster great relationships with rights-holders — record labels, music publishers, music artists, and artist managers.
"On this occasion, we took a proactive approach, pitching Konami [the developer/publisher] a playlist and getting feedback on it, which gave us a strong idea of what the final soundtrack playlist should sound like. Sometimes clients have a strong idea of what they want; sometimes it's more collaborative and they prefer to follow your lead."
Alizzz (aka Cristian Quirante Catalan) is an electronica artist, whose track "Flex" features in PES 2019:
One of the pressures of music supervision is finding music that feels current and cutting edge — if that's what suits the game. For the latest PES, Wilson explains that their "approach was to keep it forward-thinking and focused on new tracks, including some from brand new artists; and some pre-release tracks that no one would have heard before. For some games that are more stylised in terms of location or a period in history [e.g. Grand Theft Auto: Vice City, set in 1986], it can be interesting to include heritage tracks to help create that atmosphere and sense of place.
"This year we wanted to help move the sound of PES forward. Of course, you'll always refer back to previous games and tracks used, but it was very much about trying out new, exciting, and upcoming artists this time around. We had a lot of back and forth with Konami to make sure the tracks were suitable, and were bringing something fresh to the table."
You can check out the full tracklist here. Tracks are played at random during the game's non-footballing moments, with players able to choose/skip tracks.
Wilson's personal favourite is "Loner Boogie": "It's such a great track, and Boy Azooga are going to be huge sooner rather than later!"
For 18 or so years, there have been two football games series that have stood out from the rest — FIFA and PES. Wilson feels that music is one way for similar, competing titles to differentiate themselves (apart from silky-smooth passing gameplay). "[Music is] such a powerful tool to help people immerse themselves in a game, film, show, etc. You can say so much about a game, evoke so many different emotions and feelings just through the music you use — you're ultimately making a statement about the brand."
With football being the global force that it is, it's pretty likely that the sorts of artists that would be approached for such a soundtrack would also be fans of football and/or video games. "We've had great reactions from artists for the PES 2019 soundtrack. So many were already big fans of the game, so to be included on the soundtrack was really cool for them, and great for us to make that happen!"
In particular, UK band Suzi Island were jazzed to be included, as various members were long-time PES fans.
Crossing the divide
Since video games moved to the CD format in the mid-'90s, many titles have included commercial music in them where the original audio was streamed directly from the disc. Obvious historical examples from that first batch of such games include WipEout, Gran Turismo, and Tony Hawk's Pro Skater. (Fun fact: Miles Jacobson, currently MD of Football Manager's Sport Interactive, was one of the key people in licensing dance music for the original WipEout in 1996 — one of the first such deals. Also, Sam Houser — one of the lead producers behind Grand Theft Auto V and Red Dead Redemption 2  — started his career at record label BMG, likely the reason that the GTA series has focused so heavily on licensing vast amounts of commercial music.)
1996's WipEout was one of the landmark titles in terms of commercial music being 'synced' into the game:
It's been over 20 years since WipEout, and there are plenty of people who have crossed between industries, but the video games and music businesses arguably still suffer a gulf of understanding between them — a lack of shared language, if you will.
Whilst Record-Play's Wilson recognises this, she points out that it's not an issue just between music and games: "The same could be said about advertising and music, film and music...  That's why there's a need for music supervisors and sync departments within record labels and music publishers, as well as independent sync reps. Sync is such a fast-growing part of both the music and gaming industries that it's now become hugely important to have individuals, companies, and/or departments that focus on managing sync and supervision — on both sides."
In an effort to increase all-round understanding about music licensing for media, Record-Play co-published a guide called Unblocking the Sync (🥁boom-tish!), to try and demystify the topic for people on all sides, whether music artists, game developers, advertisers, and so on. Wilson explains: "We found that there wasn't really enough info out there for artists — or even for smaller record labels and music publishers — venturing out into the world of sync; and you hear of horror stories of artists being taken advantage of.
As music supervisors, we often find that we are almost acting like translators between music makers and music users, so we wanted to provide a resource that would help teach both parties the language of sync."
---
Lauren Wilson is a Music Supervisor and Sync Manager at Record-Play – www.record-play.net. She is also the drummer for the band Our Girl – weareourgirl.bandcamp.com | Twitter: @_lauren_wilson_