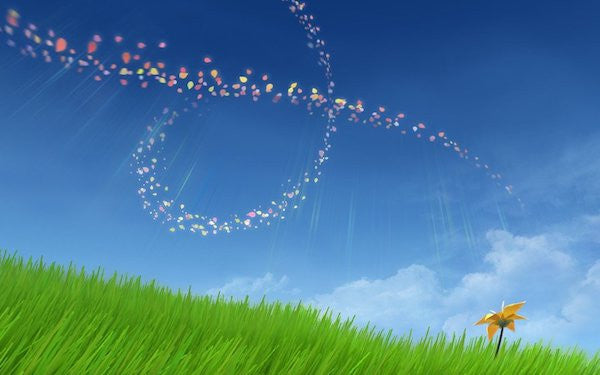 By Thomas Quillfeldt
The sun is here again! (Depending on where and when you're reading this...) Time to put down the pad, open the front door, walk outside and soak up some vitamin D… Alternatively, you could catch some virtual god rays — gorgeous-looking modern games tend to do a pretty good job of sunshine, blue sky, and green fields.
Those peaceful, picturesque in-game environs provide game composers great opportunities to get their chill on, helping us feel relaxed, refreshed and ready to face any challenge.
Here's a selection of the sunniest tracks from video games.
---
"Oven-Fresh Day" by Grant Kirkhope – Viva Piñata (2006)
Like the smell of freshly baked rolls on a sunny morning as the sound of children's laughter rings out (etc.), Grant Kirkhope's orchestral score for the Rare-developed Viva Piñata is supremely relaxing. Famed for his synthesised work on N64 classics GoldenEye 007 and Banjo-Kazooie, here it's as if Kirkhope has been swigging from the same bottle of cheery rainbow juice as Studio Ghibli composer, Joe Hisaishi (while both have, in turn, been sipping vintages from the cellars of Vaughan Williams and Elgar).
It's so evocative of the perfect English summer that if you transcribe all the individual notes played by the orchestra, they secretly spell out: M I N E S A P I M M S A N D L E M O N A D E T A.
Double dare you not to get that opening melody stuck in your head for the rest of the day.
---
"House of Lightning" by Jay Price – Sleeping Dogs (2012)
Sleeping Dogs, the well-regarded open-world game set in modern Hong Kong, may not be getting a video game sequel any time soon (R.I.P. United Front Games) but it seems that the IP might live on thanks to a planned movie adaptation being produced by the company behind the Fast and Furious series.
The original game—a fusion of Grand Theft Auto's city-based traversal, Batman: Arkham Asylum's combat and the story beats of film series Infernal Affairs—had a brilliantly eclectic soundtrack including some gorgeous eastern-tinged tracks. This track itself is a summery remix of Ryuichi Sakamoto, David Byrne and Cong Su's main theme to the film The Last Emperor.
---
"Sailing on the Wind" by Vincent Diamante – Flower (2009)
For many console gamers who hadn't really considered 'games as art' to that point, Flower by Thatgamecompany (the predecessor to 2012's Journey), blew open the gates as to what a game could be: an artful, flowing, meditative experience with no on-screen score or health bar. The explicit aim of the developers was to engender positive emotions rather than strive to be objectively fun or challenging—tellingly this was their "first game outside the safety net of academia", resulting in Flower's thoughtful approach.
Vincent Diamante's score on its own feels like a musical interpretation of an idyllic sunny day. But it also works wonders within the game: responding to the player's actions, the sometimes still, sometimes soaring tracks contribute significantly to the game's wonderful sense of flow.
---
"Green Hill Zone" by Masato Nakamura – Sonic the Hedgehog (1991)
For those of a certain generation, seeing the opening level of Sonic The Hedgehog on the Sega Mega Drive/Genesis was a jaw-dropping moment: the vibrant, tropical colours and exciting, exotically electronic music made a strong first impression.
Masato Nakamura was a band member of J-Pop group Dreams Come True and entirely new to games when he was hired by SEGA in early 1990 to compose for Sonic the Hedgehog. Despite his lack of experience and only four audio voices to work with, he nails the sense of motion and character that was necessary to launch Sonic into the public consciousness—through a driving beat, earworm melodies and quick counter-melody lines.
---
"The mediocrity sought out by everyone" by Motoi Sakuraba – Eternal Sonata (2007)
How many times has the word 'mediocrity' been used in the title of a piece of music? (Answer: Not many, and probably then only by way of an awkward translation).
Lush JRPG Eternal Sonata is centred around the historical (but fictionalised) person and music of 19th Century composer Frédéric Chopin. But just as pretty as the classical pieces weaved into the game's narrative are the pastoral string, woodwind and piano tracks created by JRPG super-veteran, Motoi Sakuraba.
---
"Sandbox" by Darren Korb – Transistor (2014)
Both Supergiant Games and composer Darren Korb broke the indie big time with 2011's Bastion. Follow-up title Transistor continued the collaboration's adherence to stylish visual and audio design and again saw Korb craft a distinct, guitar-led sound using all sorts of fuzzy effects and crunchy trip-hop beats.
Sandbox starts off with a light, surf guitar bossa and before descending into some scuzziness.
---
"Welcome to Wonderland" by Yoko Shimomura – Kingdom Hearts (2002)
Japanese games veteran Yoko Shimomura, famed for classics like Street Fighter 2 and Final Fight, is one of those composers who seems like they've never stopped working for the last 30 years. Set to continue her work on the Kingdom Hearts series with the as yet undated Kingdom Hearts 3, she's still riding high having been lead composer of the gigantic JRPG, Final Fantasy XV.
Nearly 20 years ago, the developers of the original Kingdom Hearts were trying figuring out how to stitch together an unprecedented number of fictional universes—from numerous Disney and Final Fantasy titles—into a new narrative a la Who Framed Roger Rabbit?. To help tie it all together, Shimomura had to come up with a raft of cute, memorable tunes that sat well with the myriad well-known characters and worlds and also worked within the conventions of the JRPG and 3D platformer genres. Welcome to Wonderland is a chirpy, restful delight.
The Symphonic Fantasies Tokyo album includes a classical orchestral suite based on Yoko Shimomura's music for the Kingdom Hearts series, available on CD and vinyl from Lacedrecords.com; as a download via all major digital retailers; and on Spotify and other major streaming services.
---
"Woo!" by Jared Emerson-Johnson – Telltale's Sam & Max Beyond Time and Space (2007)
Before Telltale's mainstream breakthrough with The Walking Dead: Season One, the developer, along with long-term musical collaborator Jared Emerson-Johnson, plied its trade through licensed games as well as continuing classic puzzler franchises including Monkey Island and Sam and Max.
With Telltale's three hilarious Sam and Max series, Emerson-Johnson was clearly in his element creating off-the-wall, jazzy brass and woodwind-led numbers including this joyous Caribbean romp, replete with steel pans.
---
"Besaid Island" by Masashi Hamauzu – Final Fantasy X (2001)
Final Fantasy X was the first game in the long-running series (that keeps going and going…) where composer Nobuo Uematsu shared the musical workload with others, including the classically-trained Masashi Hamauzu. Series fans might not have realised it at first, but the sparse, spaced-out music for the sunny Besaid Island location wasn't by their favourite melodic master, Uematsu, but his talented colleague Hamauzu who would later take on composition duties for the three Final Fantasy XIII titles.
Both composers now enjoy their work being performed live to audiences around the globe as part of the Distant Worlds and Final Symphony concerts.
---
"Home" by Disasterpeace – FEZ (2012)
A bit like the film Apocalypse Now, the story around FEZ's development is almost as interesting as the work itself. But whatever has been written and said about its tortured production, the game is undeniably an aesthetic triumph in no small part thanks to composer Richard Vreeland AKA Disasterpeace.
FEZ's mellow, modern chiptune music is at its best during the serene setting of the game's opening vertically-stacked village. Disasterpeace's score, like the game's overall style, is knowingly retro yet still fresh and distinct.
---
"Frontier Village" by Manami Kiyota – Xenoblade Chronicles (2010)
There's a strong relationship between a number of modern Japanese cultural works and an idealised vision of 18th-19th Century Northern European country life, including an embrace of Celtic music and instruments. So much so that it is now a firm staple of JRPG soundtracks to hear gentle flute/woodwind melodies underpinned by acoustic guitar, accordion and light percussion, just as with anime titles such as Studio Ghibli's Kiki's Delivery Service.
It's almost always the same comforting picture: a village of pre-C20th houses and huts nestled cosily amidst natural surroundings and a welcoming population eager to converse and trade.
---
"Cheap Shop" by Anamanaguchi – Scott Pilgrim vs. The World: The Game (2010)
We previously wrote about this particular extreme example of a cultural feedback loop ('Why we ♥ video game music: Nostalgia'). Scott Pilgrim vs. the World: The Game is a tie-in to a movie which is an adaptation of a comic book that draws heavily from video game tropes. Perfect justification then to bring in US electronica band Anamanaguchi to score the game in their characteristic 'chiptune punk' style.
It's like a self-referential singularity—the breezy bossa of Cheap Shop apes the stereotypical easy listening muzak of department stores and hotel lobbies, reinterpreting it using the sound chip stylings of Super Mario. Even the track name snarks at the video game convention of conveniently situated merchants throughout the game world.
---
"Beautiful Morning" by Kentaro Haneda – Genso Suikoden Music Collection (2002)
With a main melody sounding like the intro to a daytime TV chat show about gardening, this exquisitely cheesy arrangement of Beautiful Morning from Suikoden II ought to make you feel giddily happy—or ready to throw up, depending on your tolerance for the twee.
As with Final Fantasy, there are many professionally recorded arrangement albums based on Suikoden series composer Kentaro Haneda's work, mostly within the realm of easy listening with Celtic, vocal-based, solo piano or 'Asian' instrumentation.
---
Any other great summery tunes you would have included? Let us know: