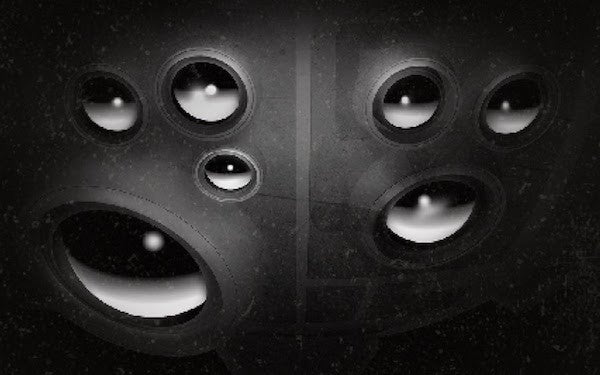 We interview Nine Inch Nails' touring guitarist Robin Finck about being drawn into the world of indie video games and composing for survival horror title NOCT.
By Thomas Quillfeldt
There are $100 million blockbuster video games with bright, exciting worlds full of endless distractions—featuring music scores that are filmic, emotive and sweeping.
Then there are murky, mysterious, messed-up indie titles that cater to people who crave some obscurity and surprise—and aren't afraid of the exploring the darkest corners. More experimental audio design crafted within the confines of indie development often results in some brilliantly evocative, fresh-sounding music.
And so it is with NOCT: released on Steam Early Access (for PC, Mac and Linux) in late 2015 after a successful Kickstarter campaign, the 2D top-down multiplayer survival horror game developed by c3sk is all about darkness and discovery.
To create a haunting ambient score (YouTube), video game composer Pedro Pimentel (AKA Wordclock) teamed up with American guitarist and touring band member of Nine Inch Nails, Robin Finck. We spoke to Finck to find out what it was like to dive into the depths of the bleak, black world of NOCT.
Devolved responsibility
Finck didn't fall into video game composition—he was gradually enticed over decades: "An invitation prompted my direction. A deep-seated appreciation for the device and design of score is not a unique affection, though it's in me. What is unique, maybe, is how opportunity backed its way into my Yes."
That opportunity began to be forged before many of today's gamers were born: "I met a guy at Burning Man [festival] in the 90's called Mike Wilson. Our camps zipped open on one another. He was always staring at me, and I him. I imagined him to be smiling through it all, though it was hard to tell because of the mask. We'd borrow and loan. I accepted his guests as they'd come by when he wasn't around. Some would bring tins of chocolates and tell me about their lives. Eventually we got to talking, he and I, trying to launch a guy with a gas-powered fan on his back into the air. We've kept in touch for twenty years. More Burning Man, tours through Austin…"
As it turns out, Wilson would go on to have a highly influential career in games marketing and publishing, spearheading the campaign for id Software's Quake (scored by NIN's Trent Reznor) among others. Not long after, he brought Warren Spector into the Ion Storm fold, leading to the creation of the Deus Ex franchise.
In 2008, Wilson was a co-founder of the now-notoriously savvy indie game and film publisher, Devolver Digital—publisher of NOCT. Finck recalls: "I was touching down from another NIN tour and he asked me if I'd have any interest in scoring a game. I fingered aloud through the self-sabotage before folding a fervent fist, 'Yes, I will treasure the opportunity.' It was a good question and the right answer."
Writing around the pesky player
New to video games music but not soundtrack composition, Finck embraced the task: "I forearmed everything off the desk, cut my nails, locked the door and listened. I welcomed the challenge of bolstering the game experience and revered the position on the team.
"Sure, it was different because I was ever investigating the synthesis of audio to a non-linear visual environment, one that lives at random. I wanted the OST experience to have a life of it's own, all the while knowing the parts would be pulled at by untimely talons. The hardship of a field mouse.
"However, the endgame was always 'how does this bit support the environment? Does it work before and/or after this other bit here? What about instead of? What if it happens in a flash, or stays parked here for many minutes on end? How is it juxtaposed against the sound design, the gun fire, the scrawl of text and dying?' and so on…"
Co-composing across the Atlantic
Finck's co-composer was Pedro Pimentel (AKA Worldclock), a specialist at creating 'soothing, sleepy atmospheres'. "Pedro and I spent enough Skype time to make it to Mars and back, stopping for gas along the way." For whatever reason, Finck says that he and Pimentel only interacted by voice, meaning that the creative collaboration itself was partially abstracted. This was a general factor affecting the whole project, for Finck: "He was in Portugal, I was in California; Chris Eskins, the developer, was in Toronto." iCal, Skype and Dropbox were the communication tools of choice.
"Pedro had successfully established a cursory vibe for the score. His peculiar field recording approach was a key element to the atmosphere. Together we expounded on those concepts. I brought much of the melodic and instrumental structures. A challenge throughout was to marry tuned instruments with Pedro's non-tuned environments. I had to put on my 'big ears'. We lobbed starts and finishes back and forth. It was an interesting experiment, shipping off ideas to Portugal and having them returned all dolled up. And sometimes I would do the dolling, or the dressing down. We set it to work well."
Asked whether the brooding, ambient and elongated nature of the tracks necessitated regular head-clearing breaks, Finck merely replies: "Interminable wall scribble.
"We intentionally built long escapades to feel lost in space so that when a melodic structure appeared, it did so as an oasis, or some welcomed body that happened in passing. We purposely abstained from, or took breaks from, cadence-inferring instances. We really played with the concept of viewing the character from some sealed satellite, exaggerating that distance from the action. The hang of it.
"I was mindful to explore a breadth of keys and tonalities as a reaction to the randomness that game play imposes."
Gitaroo men
As to whether guitarists fond of effects pedals like Finck himself and Silent Hill composer Akira Yamaoka have something special to bring to video games, he retorts: "No. We've all got the same effects. Everything I did on NOCT started on the piano or Dreadnought [a type of acoustic guitar] into my iPhone, to remember or to share.
"I'm into melody and progression. That sound wares stuff sorta happens by accident along the way, or during some experimental knife-throwing lab toward the end of a thing. Fun. Critical. Significant. Indispensable. But I like the bones best of all."
He adds: "I like what Akira did with Silent Hill, and he's an excellent player." The two recently crossed musical paths, sharing a stage whilst performing with live supergroup The Hellcat Saints at E3 2016.
It's put to Finck that indie games might be the new punk rock. Not sold on this, he replies: "I'll meet you here instead: It's inspiring to live and to play in a trans-genre system, awash with all the 'right now' nonsense that makes finished shit happen fast. Amazing stuff. All around us. Limitless function and opportunity. Outside the box is certainly the norm place to be by now. This tech wizardry is real and there is no shortage of cloaks and pointy hats."
Now playing
As a game he's enjoyed recently, Finck name check's Tangentlemen's PlayStation VR horror game, Here They Lie: "It's gorgeous, desolate, thoughtful and has depth and detail that I admire."
He's especially fond of renowned Danish developers Playdead: "They're my favourite. What they did with Limbo and Inside was really paramount to drawing me into the whole scene. I absolutely love what they do and the way they do it.
Having toured the show floor of San Francisco's recent Game Developer's Conference, he calls out a few promising titles still in development, including The Deep End's first-person narrative horror game Perception; and the "beautiful" Far:Lone Sails, an atmospheric vehicle adventure by Don Schmocker (Mr. Whale's Game Service).
Some of the game soundtracks rocking Finck's world of late include Disasterpeace's Hyper Light Drifter (Spotify), 65daysofstatic's No Man's Sky: Music for an Infinite Universe (Spotify; released by Laced Records on CD, vinyl and digital) and Mick Gordon's widely praised, thrash-heavy score for the rebooted DOOM (Spotify).
---

You can check out the NOCT soundtrack on YouTube and a sampler on SoundCloud. Unfortunately, the album has been delisted from Spotify and Bandcamp.
Robin Finck is currently a touring member of Nine Inch Nails, as well as an active recording artist and composer – www.RobinFinck.com