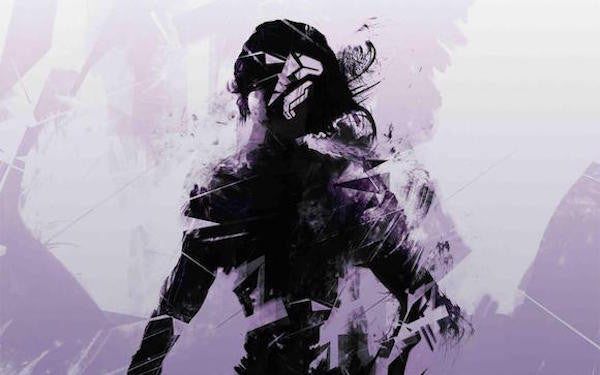 By Thomas Quillfeldt
Released in August 2015 across consoles and PC, Mike Bithell Games' Volume is a stealth action puzzler that mixes the mythos of Robin Hood with the neon sci-fi of Tron.
Volume saw BAFTA-nominated composer David Housden join game designer Mike Bithell for their second collaboration. The first, 2012's Thomas Was Alone, was a smash hit, selling more than a million copies—a pipe dream for a tiny indie game developer. As such, it cast a long shadow, perhaps setting Volume up as the 'tricky second album'.
Housden talked us through his feelings about the soundtrack one year on, how he went about creating different shades of tension and his personal favourite game scores.
---
Laced: How do you feel overall about the score and the game one year on? Do you think you suffered from Difficult Second Album Syndrome?
DH: I don't feel enough time has yet passed for me to be truly objective about my efforts. I was sitting with this material, listening to it for 12-plus hours a day over a two year period, so my brain is truly saturated with it. Of course, I've gone straight from the original game into writing more, similar material for the Volume: Coda expansion for PlayStation VR—I think I'll need another year or so of palette cleansing before I can revisit it and listen with fresh ears!
Laced: In what ways do you think you developed from Thomas Was Alone to Volume?
DH: Whilst it definitely was our "tricky second album", I had come on in almost all ways: my production skills, orchestration, my technical ability on the piano, my experience in working with interactive audio and the things that can be achieved with non-linear music. I was wiser and more knowledgeable in each of these areas, and I'll take everything I learned from Volume into my next project. I hope I'll continue to grow, learn and improve with every project.
Whilst I love Thomas Was Alone from a sentimental standpoint, it's very raw to my ears now and there are aspects of certain arrangements and mixes that make me wince! No doubt I'll feel similarly about Volume in four to five years' time. That's the curse of critical listening.
Laced: Listening back, is there anything obvious you would change in your overall approach?
DH: I would have liked to have used period and ethnic instrumentation more. I feel that this gave the score a unique colour and identity, and could potentially have permeated more deeply than it did.
Having now played through the finished product numerous times, in hindsight I think I'd adjust the balance between organic and electronic sounds in favour of the synths. Those segments feel like a more natural fit in terms of the aesthetic of the game, but overall I don't think I could have done much more than I did. My approach was pretty exhaustive.
Laced: What was your favourite piece of gear/software used during the making of Volume?
DH: I used a library by Heavyocity called Aeon quite a lot throughout. Many of the synth patches were created with that.
I also love the tone of the European folk instrument the zither, which was used on some of the quieter pieces. It really helped give that subtle, medieval undertone that I was looking for and created some nice new textures when combined with piano, guitar and various other things.
Laced: Did you listen to certain other music before you got started, to help get you in the mood?
DH: [Game director Mike Bithell] compiled a playlist of influences and references that he felt suited the game and were indicative of the sort of direction he'd like to take things in.
I find it's helpful to have a tangible sense of what the developer is looking for. I can then provide my own interpretation of what I feel will work best for the game, whilst keeping in mind the sorts of end result they'd ideally like—although the end result usually differs wildly from the initial references!
Laced: In a great way, there's a through line from late 90s espionage-related soundtracks like Enemy of the State or Metal Gear Solid (with a dash of Resident Evil action music), through to Hans Zimmer and the MGSV original score. Are you a particular fan of stealth or thriller games and films and do you have some favourites?
DH: Thank you, some flattering comparisons there! I used to love Metal Gear Solid when I was younger but I don't really have the patience for stealth games. With the exception of that amazing series, it's not a genre I particularly enjoy playing.
On the other hand, I absolutely love thrillers. They comprise the majority of my film collection, so picking a favourite is tough: Psycho is probably still a stand-out for me, even after all these years. I can't say I took a lot of inspiration from it musically, but when trying to create an air of tension, you could do far worse than reference the master of suspense himself!
John Powell's work on the Bourne series was a factor, as was M83's Oblivion score.
Laced: Since a lot of the music is about maintaining tension, was it a particularly tense time actually composing it? Did you have to put on some Brian Eno and meditate in between sessions?
DH: Not at all! I'm not really a 'method' composer so to speak, so I don't necessarily need to be feeling tense in order to express that musically, in the same sense that I wouldn't break up with my partner if required to write a piece of music representing heartbreak!
A lot of the experimentation was finding ways to express different levels of tension. You can't keep the player in a stressed state for the entire game, otherwise it becomes an unenjoyable experience. It's about contrast, the ebb and flow and taking the audience through various states of emotion in accordance with their actions. Finding ways to allow the player time to breathe from the intense sections without completely dropping the tension entirely was a challenge.
Laced: What is your favourite track on the soundtrack and why?
DH: My favourite piece is Perchance to Dream because it acts as a palette cleanser from the rest of the soundtrack. It's the kind of thing that I'd write for myself, just for fun, so to have the opportunity to include something like this in the game was very pleasing.  
Laced: What would you like to tackle next in terms of composition style / genre / instrumentation?
DH: I'd like to do something stripped back and minimal next. I feel that plays to my strengths: something piano-based with subtle strings and ambient soundscapes would be ideal. Mind you, anything other than stealth action music would be a welcome change!
Laced: Any thoughts about the wider video game music scene? There are a lot of concerts happening, some where the game in question gets played alongside the score, as with Jessica Curry's Dear Esther. Is that something you'd like to explore with your existing work?
DH: Yeah it's really great to see these concerts becoming more of a regular occurrence. It's definitely something I'd love to explore myself but I don't think my music to date lends itself quite so readily to live performance as some of the great orchestral scores that Jessica Curry, Austin Wintory and others have written over recent years. It's certainly a conversation I'd be open to having at some point though.
Laced: What game series would you most like to work on?
DH: Undoubtedly the Final Fantasy series, but I'd much rather Nobuo Uematsu carried on with that! Silent Hill would be the other obvious choice for me.
It was Final Fantasy VIII and Silent Hill 2 that really fuelled my passion for game music. Both games had a huge impact on me growing up, and a large part of what made them so memorable was the music and the emotional journey I experienced because of it. To have a chance to help craft similar experiences for future generations would be very special indeed—it's why I got into the industry. 
---
The Volume soundtrack is available to buy on Bandcamp and iTunes, as well as being available to stream on Spotify and Apple Music.