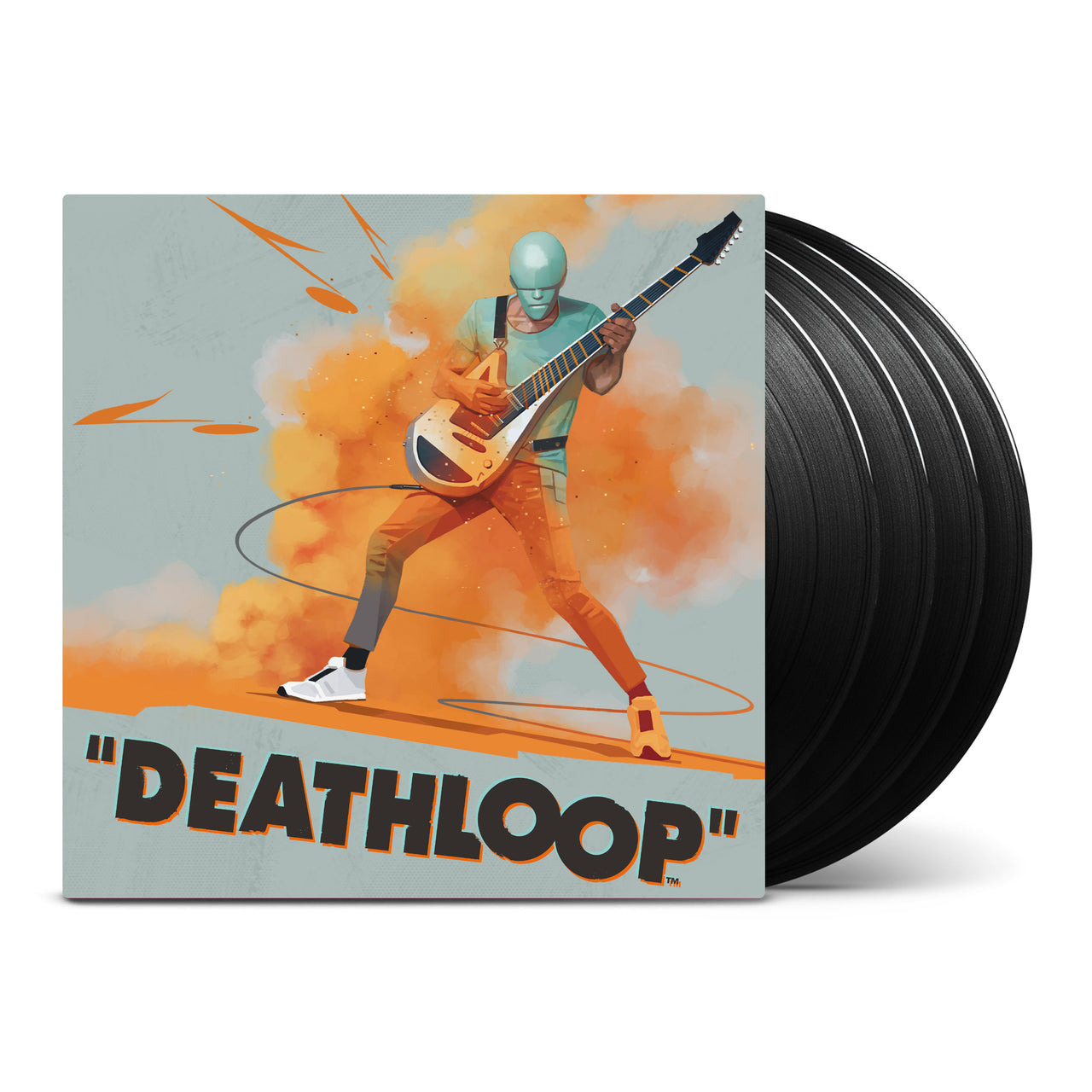 Deathloop (Deluxe X4LP Boxset)
$ 80.00
Album:
Deathloop
Artist:
Tom Salta, Ross Tregenza, Erich Talaba, Sencit and more
Product information:
59 tracks remastered for vinyl
Black vinyl
Deluxe 3mm spined inner sleeves
Rigid board slip case
Includes "Déjà Vu" (feat. FJØRA)
...................................
The visionaries at Bethesda, Arkane and Laced are bringing the twisted '60s soundtrack for award-winning looper-shooter DEATHLOOP to wax.
The complete 59-track soundtrack has been specially mastered for vinyl and will be pressed onto heavyweight discs. These will come in spined inner sleeves housed in a rigid board slipcase. Tracklist curation and stunning original sleeve artwork is by the team at Arkane Lyon.
This Standard Edition quadruple LP box set features traditional black discs.
Lead composer Tom Salta has built an enviable credits list, with entries in the Prince of Persia, Tom Clancy and Halo universes to his name. For DEATHLOOP's original score, he immersed himself in the music of Jimi Hendrix, Pink Floyd, Nelson Riddle and a host of other late-'60s influences. Layers of period-appropriate organs, synths and other instruments (including Rhodes, Wurlitzer and Hammond B3) help maintain the tension as Colt picks off Eternalists from the shadows. As things get dicey, or Julianna intervenes with extreme prejudice, tracks explode into furious guitar and drum grooves that propel the zany, supernaturally enhanced gunplay.
Ross Tregenza's multi-genre diegetic cues perfectly complement the psycho-sophisticate stylings of Blackreef's artistically aspirational inhabitants, while songwriter Erich Talaba and singer Jeff Cummings brought to life the vicious visionary Frank Spicer with catchy in-universe songs. Music agency Sencit teamed up with powerful yet soulful vocalists for trailer and credits songs, including Bond-ish banger "Déjà Vu" (featuring FJØRA), "Pitch Black" (featuring Lady Blackbird) and "Down the Rabbit Hole" (featuring Samantha Howard & Haqq.)
 ...................................
*All images shown here are mock-ups.*
...................................
Track Listing:
Disc 1
Side A
Splashscreen 01
Welcome to Blackreef
Menu - Break The Loop
Menu - Protect The Loop
Invasion Started
Invasion Updated
Invasion Ended
Rocket Man
New Discovery
A Band Apart (Frank Spicer)
Side B
Splashscreen 02
Updaam
Anonymous (Aleksis Dorsey)
Colt Gameover
Colt Win
You Have No Class (by Frank Spicer)
Disc 2
Side A
Splashscreen 03
Karl's Bay
Hazardous (Harriet Morse)
Julianna Gameover
Julianna Win
Ode To Somewhere (by Frank Spicer)
Side B
Splashscreen 04
The Complex
Paranormal Activity (Egor Serling)
The Revenant (by Frank Spicer)
Disc 3
Side A
Splashscreen 05
Fristad Rock
Delirium (Fia Zborowska)
Equality Gameover
Target Killed
Lady S (by Frank Spicer)
Side B
Splashscreen 06
New Danger
Space Invader (Charlie Montague)
New Mystery Unlocked
Ubiquity (Wenjie Evans)
New  Milestone Reached
Final Confrontation
New Conclusion
Déjà Vu
Disc 4
Side A
Splashscreen 07
Eternal Deathwish
Carnival
Stuff Dispensers
Heartbreaker
No Saints No Sinners
Madame K
Sun Goes Down
The Moxie
Pitch Black (promotional)
Side B
Splashscreen 08
Wrong Side of the Mirror
Safe Room
The Dahlia's lounge
Automaton's Tango
Time Flies
Candybar
Down the Rabbit Hole (promotional)