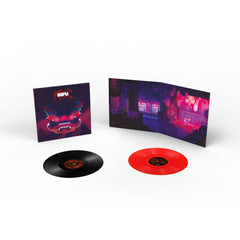 Sifu (Deluxe Double Vinyl)
$ 35.00
Album:
Sifu (Original Soundtrack)

Artist:
Howie Lee

Product information:
30 tracks from the 2022 kung fu brawler
Black and Red heavyweight LPs
Deluxe gatefold sleeve
...................................
Sloclap and Laced Records are bringing the palpitating beats of Sifu to vinyl with this deluxe double LP. 
30 tracks from the kung fu brawler have been specially remastered for the format, to be pressed to heavyweight discs in black and red. Sleeve artwork is by the Sloclap team, with art direction by Paul-Emile Boucher and illustration by Servane Altermatt and Chen-Yang Hsu.
Howie Lee is a consummate creative, a visual artist and experimental club music producer-DJ unafraid to fuse traditional Chinese instrumental palettes with sampled and synthesised electronic elements. Sifu's brutal musical blend helps keep players on the razor's edge — truly the result of mastery through practice. Gongs, gamelan, bamboo flute and big Chinese percussion sets interlace with the sounds of dub, techno and drum and bass in a soundtrack that bristles with tension and revenge.
...................................


*All images shown here are mock-ups.*

...................................

Track List

DISC 1

SIDE A
Martial Mastery
The Wuguan
A Taste of Revenge
Sifu_s Death
Enter the Gang Turf
Collecting Debts
Money in the Trashbags
Twin Villains
Smell of Drugs

SIDE B
Isolated in Nature
Crash the Dancefloor
Clash in the Pit
Blood is on Fire
Flames of War


DISC 2

SIDE A
Discovering Art (Part.1)
Discovering Art (Part.2)
Discovering Art (Part.3)
Diving Massacre
The Iceberg
Haze
Snow of Carnage
Gold Pluck
Surveillance
The Drop

SIDE B
Going Deep
Lygophobia
Day of Judgment
Sanctuary
Fearless
Martial Mastery (game version)